New 56-unit mixed-use development coming to Peachtree Corners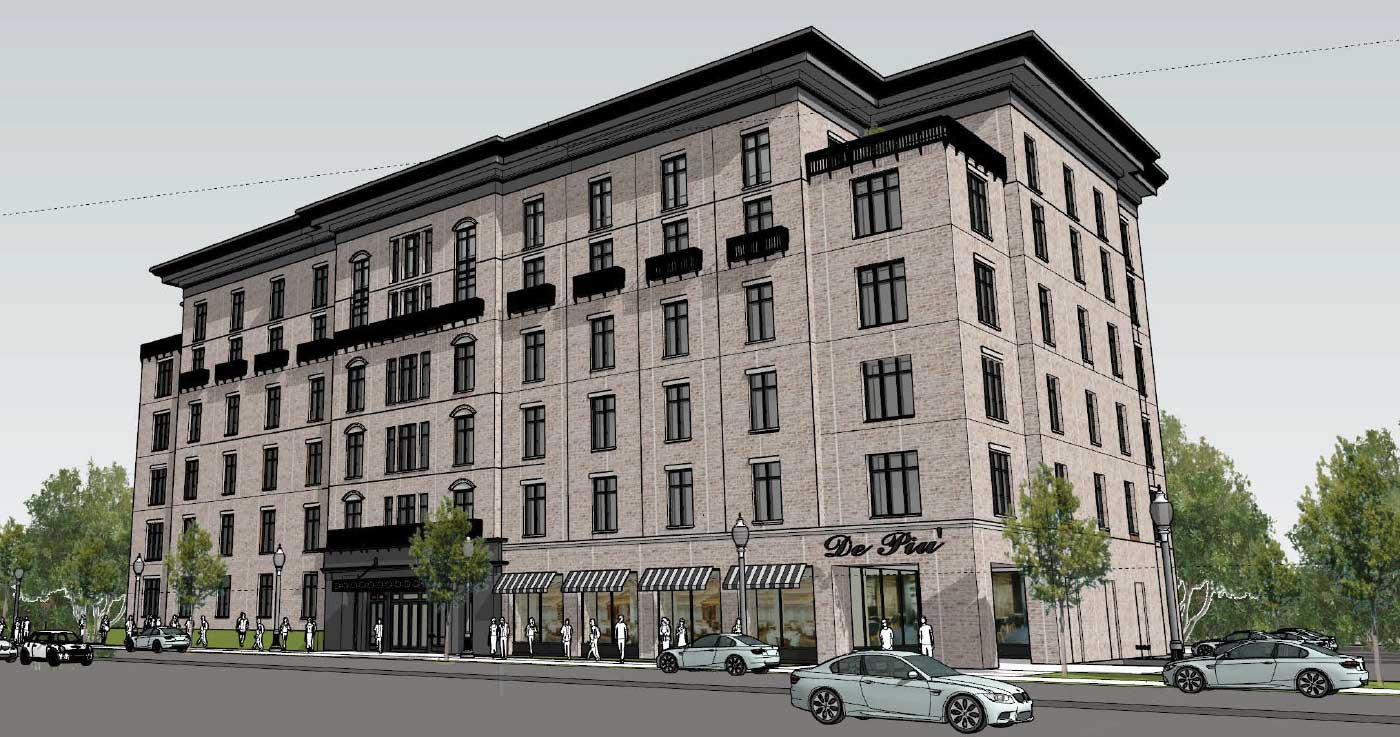 Peachtree Corners Circle Lofts to be built across from the Forum
Atlanta developer and former Fulton County Sheriff candidate Ben Cowart recently got the green light from the city of Peachtree Corners to develop a 6-story, 56-unit tower on 6.8 acres at 4779 Peachtree Corners Circle. Although the project has been approved for rezoning from light industrial to multi-use development with several conditions, the company has yet to submit a land disturbance permit.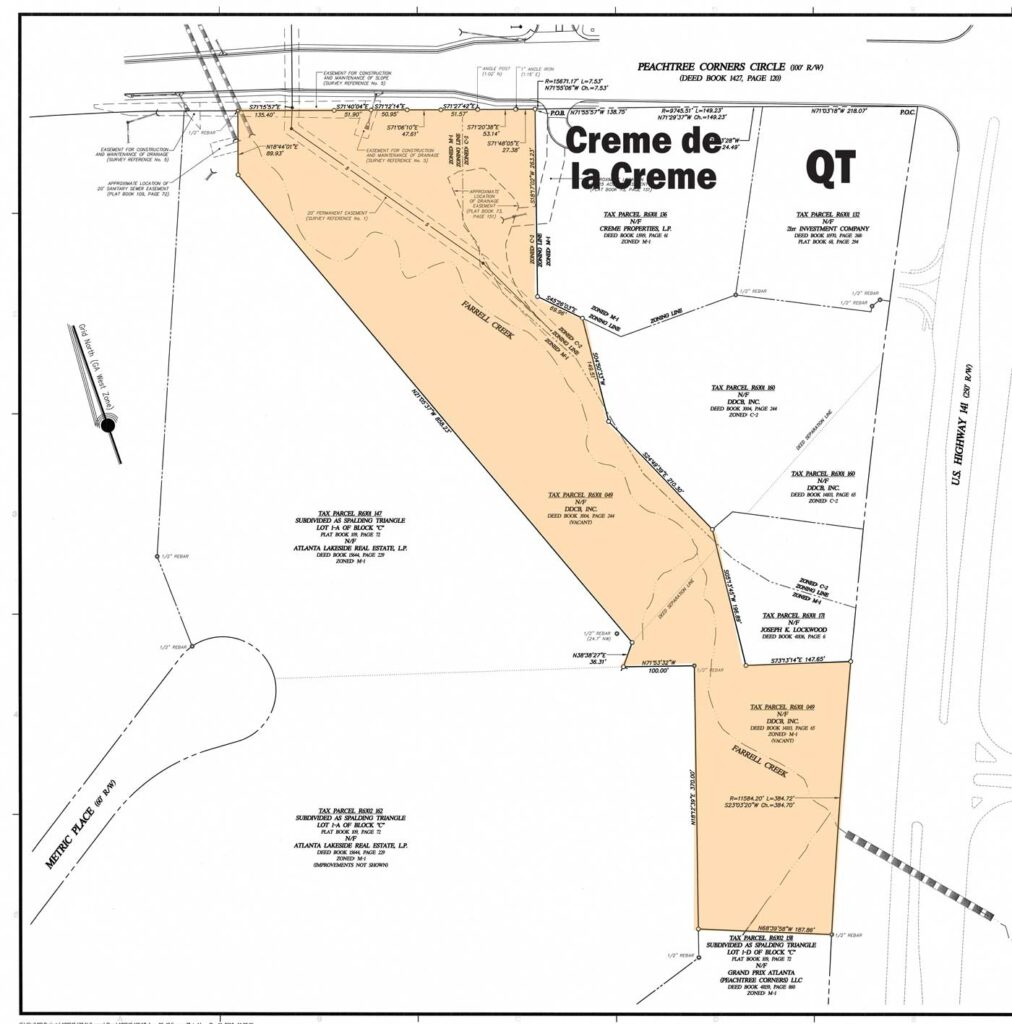 The ordinance provides for the following:
The development must include residential, restaurant and public trail.
The development must have up to 56 multi-family, for sale condominium units which must meet minimum standards. No more than 20% of the units may be rented.
There must be a minimum 2,000 square foot restaurant located on either a ground floor or roof.
The developer must provide sidewalk connectivity between the building and trail system and provide pedestrian sidewalk connections to Peachtree Corners Circle. It will be paid for by the developer and then the land will be donated to the city.
The development will include no more than one right-in/right-out only vehicular access point but will have the flexibility necessary if the potential roundabout is built.
The developer plans underground parking and units ranging in price from $600,000 to $1.5 million.
During a public discussion last year about the development, the potential for a roundabout at the Forum entrance which would affect the entrance and exit to the project was discussed.
Cowart is the son of the late Jim Cowart, who developed many of the five-four-and-a-door homes in Peachtree Corners and Dunwoody.

Upgrades That Will Make You Love Your Home, Not List It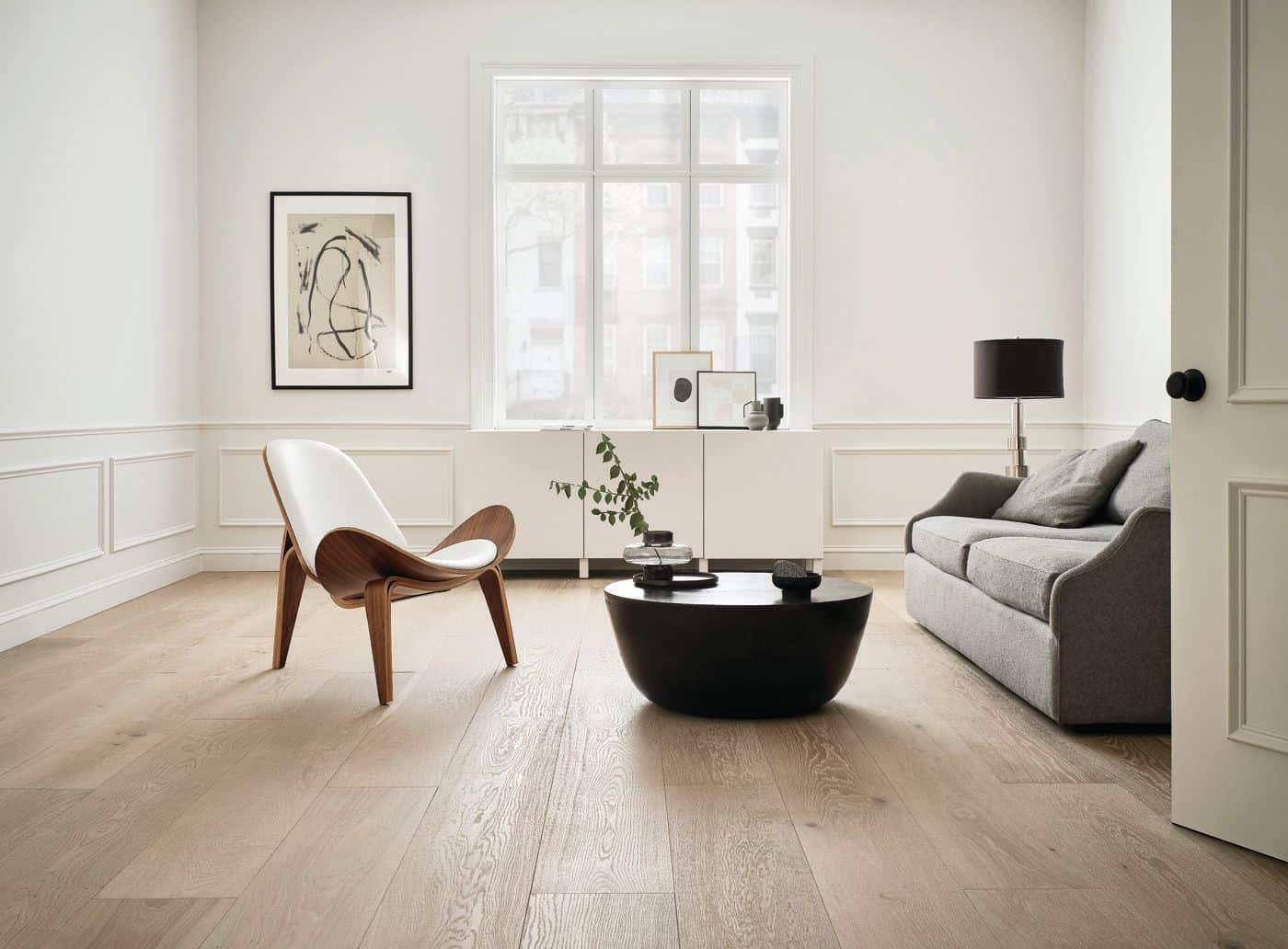 Get the biggest bang for your renovation bucks.
Whether it's because staying put saves time, money or stress, most Americans are happy to remain in their current homes. It might not be the right time for your family to think of changing commutes and schools or adding mortgage costs.
And how does one let go of the emotional attachment to a home in which so many cherished memories have been made?
I teamed up with Eli Vaknin, experienced General Contractor at EV Remodeling; Jennie Hong, Flooring Expert and Owner of Floor Coverings International Northeast Atlanta; and Interior Designer Leah Kessler of Leah Kristin Designs to look at home upgrades that could turn your existing home into your dream home.
We've gathered exciting options for a range of budgets, from $10,000 to $100,000. I hope these ideas inspire your next projects!
For a $10,000 budget
EV Remodeling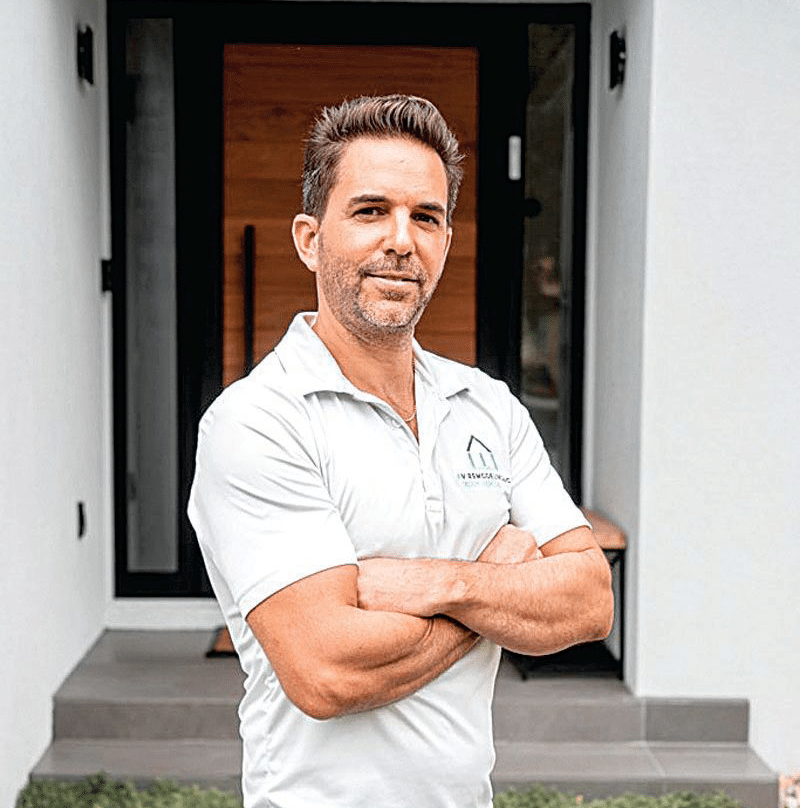 Vaknin proposed upgrading a fireplace for $10,000. The hearth can be refaced with veneer stone, a thin layer of stone applied directly to drywall with no special preparation.
Other material options for fireplace refacing are marble and large-format tile that comes in huge 4" x 8" sheets. One sheet can cover the entire face of the fireplace.
"People are going for a more modern, clean look — something that doesn't catch so much dust, that you can wipe clean easily," he said.
Mantles can also be updated, though for a more contemporary look, Vaknin recommends eliminating the mantle altogether. Traditionalists may shudder and consider a change of mantle material instead.
The fireplace surround dictates what sort of mantle is suitable. Vaknin favors contrasts. A rustic wood mantle for a farmhouse look plays well against a clean, bright white material; whereas a 'clean' mantle pairs well with rustic stone veneer.
More ideas
Other ways to freshen a home include a new handrail and balusters for a staircase. Balusters can be wooden, iron or horizontal cables for a modern esthetic.
Repainting the exterior of your home also can provide an instant facelift that your neighbors will enjoy, too.
New, man-made quartz or natural stone granite, quartzite or marble countertops and backsplash in an average-sized kitchen can make it stand out. Vaknin said he has witnessed a trend towards darker counters in black or gray.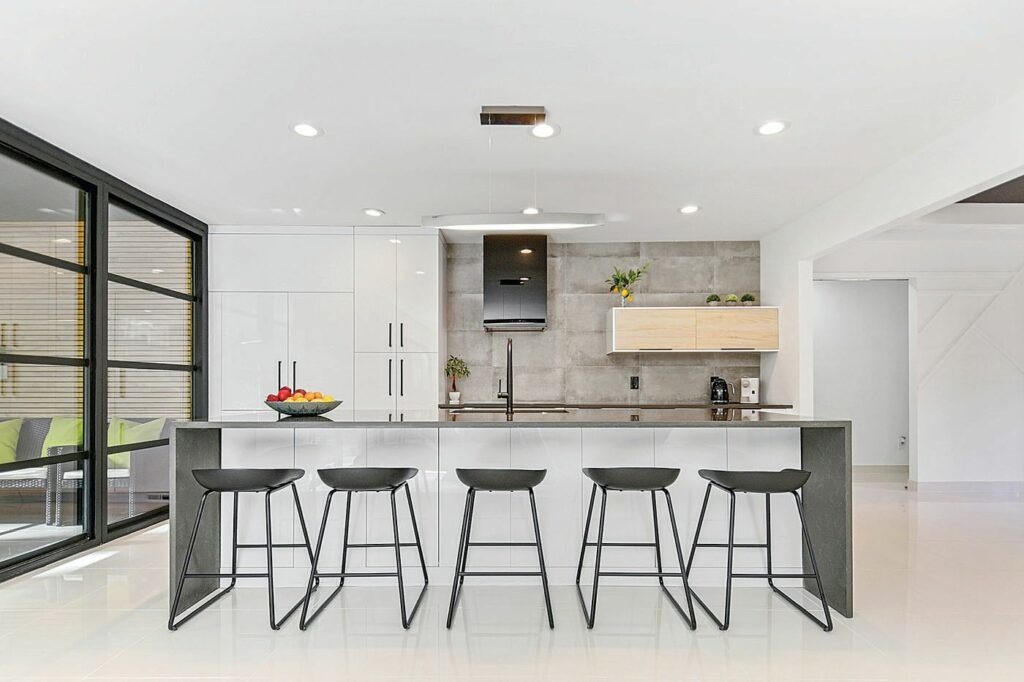 Floor Coverings International 
Familiar with older homes in Peachtree Corners, Hong is aware that if you're not moving, you're looking to do some work.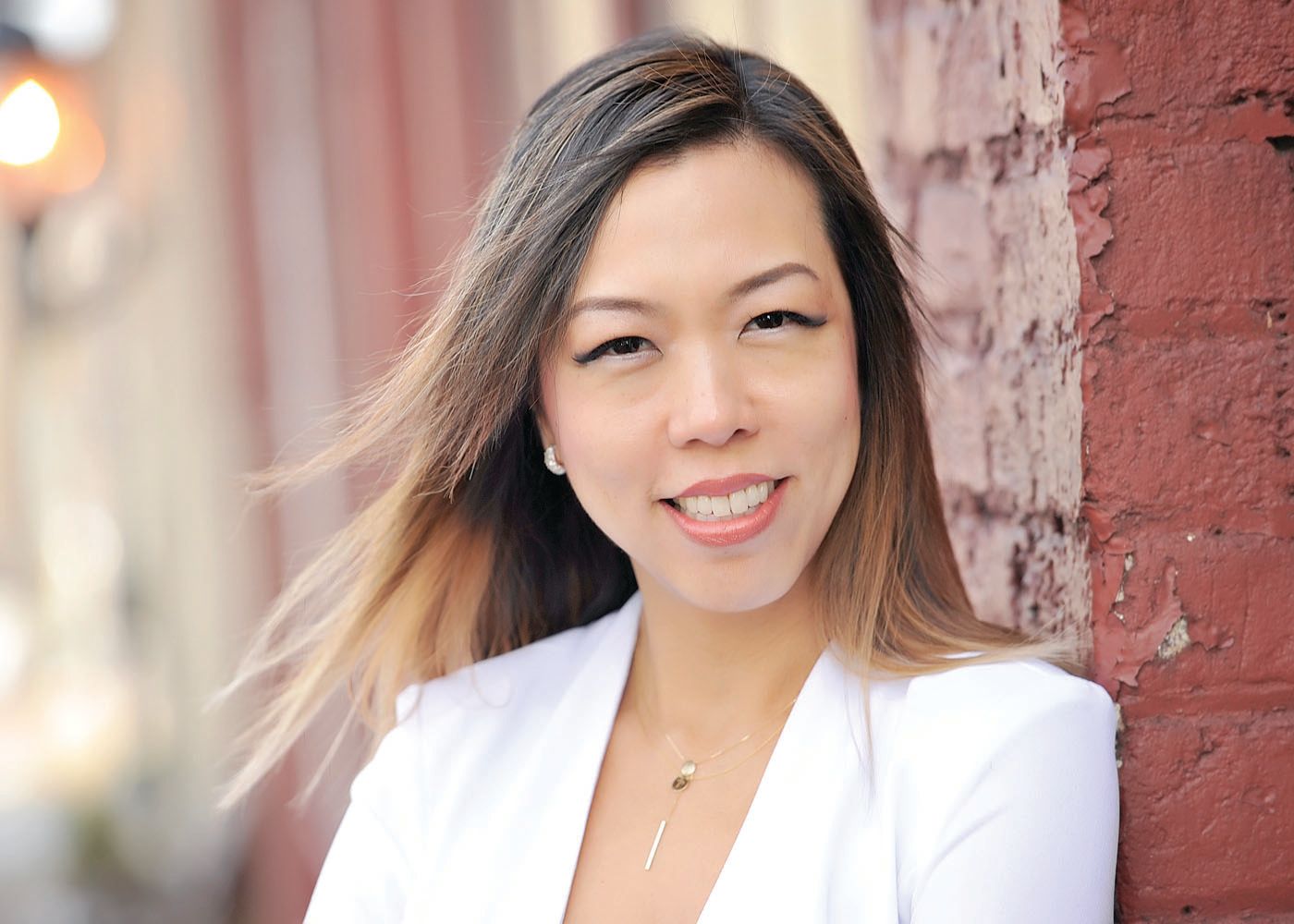 Many homes come with solid, 2.25" hardwood floors on the main floor, other than one or two carpeted rooms, maybe. Hong suggests removing any carpet, replacing it with hardwoods, then sanding the whole main floor and updating the stain.
Sanding and refinishing everything to a new color eliminates the orangey old stain, which is outdated.
"Everybody loves California white oak. Natural wood is in now," Hong said. "You can get the entire main floor, solid hardwood, sanded and refinished. You can also sand and refinish your stairs. That's right around $10,000 …for an entirely new look."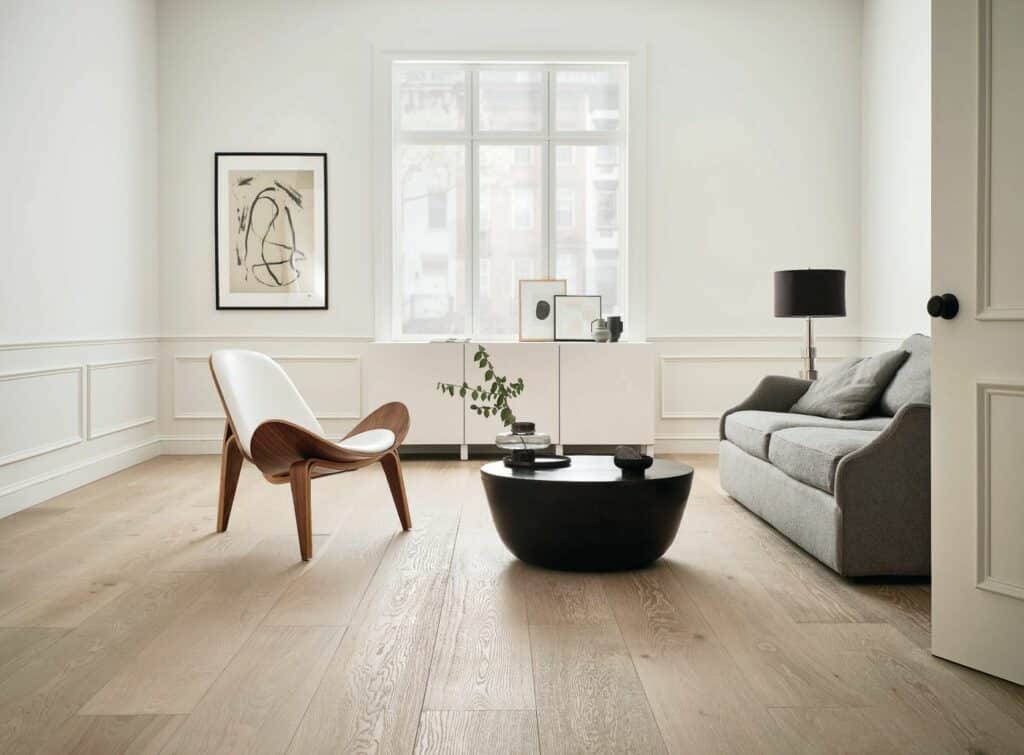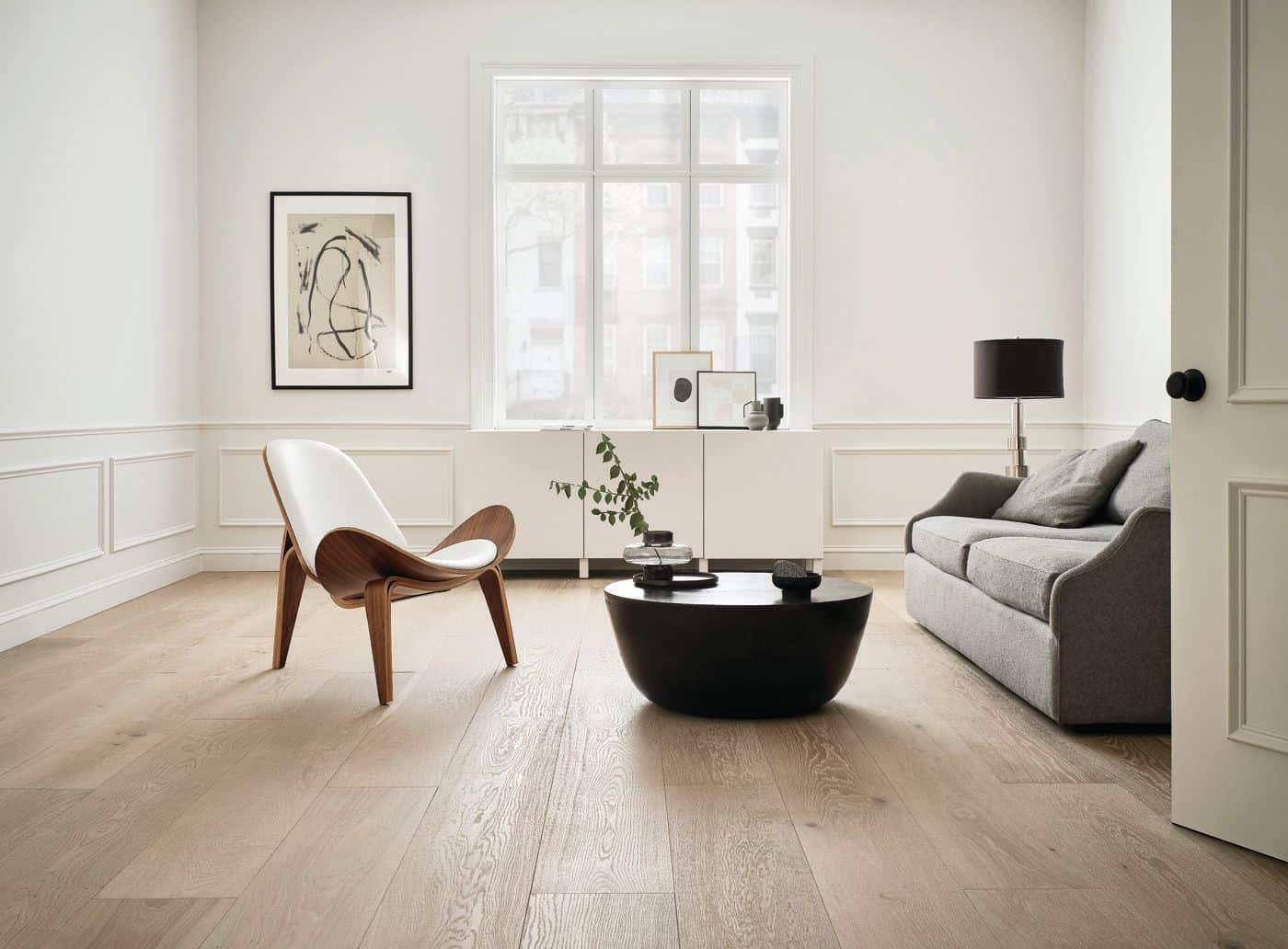 The removal of any carpet on the main floor and replacing it with hardwoods is included. "That's the best bang for your buck," Hong said. "You don't have to spend a fortune; you already have the hardwoods."
If tackling a carpeted upper level is more pressing, you can remove the carpet and replace the hallway floor with solid hardwoods finished to match the main level. Depending on your budget, you may consider extending hardwoods into the primary bedroom and getting fresh carpet in the secondary bedrooms.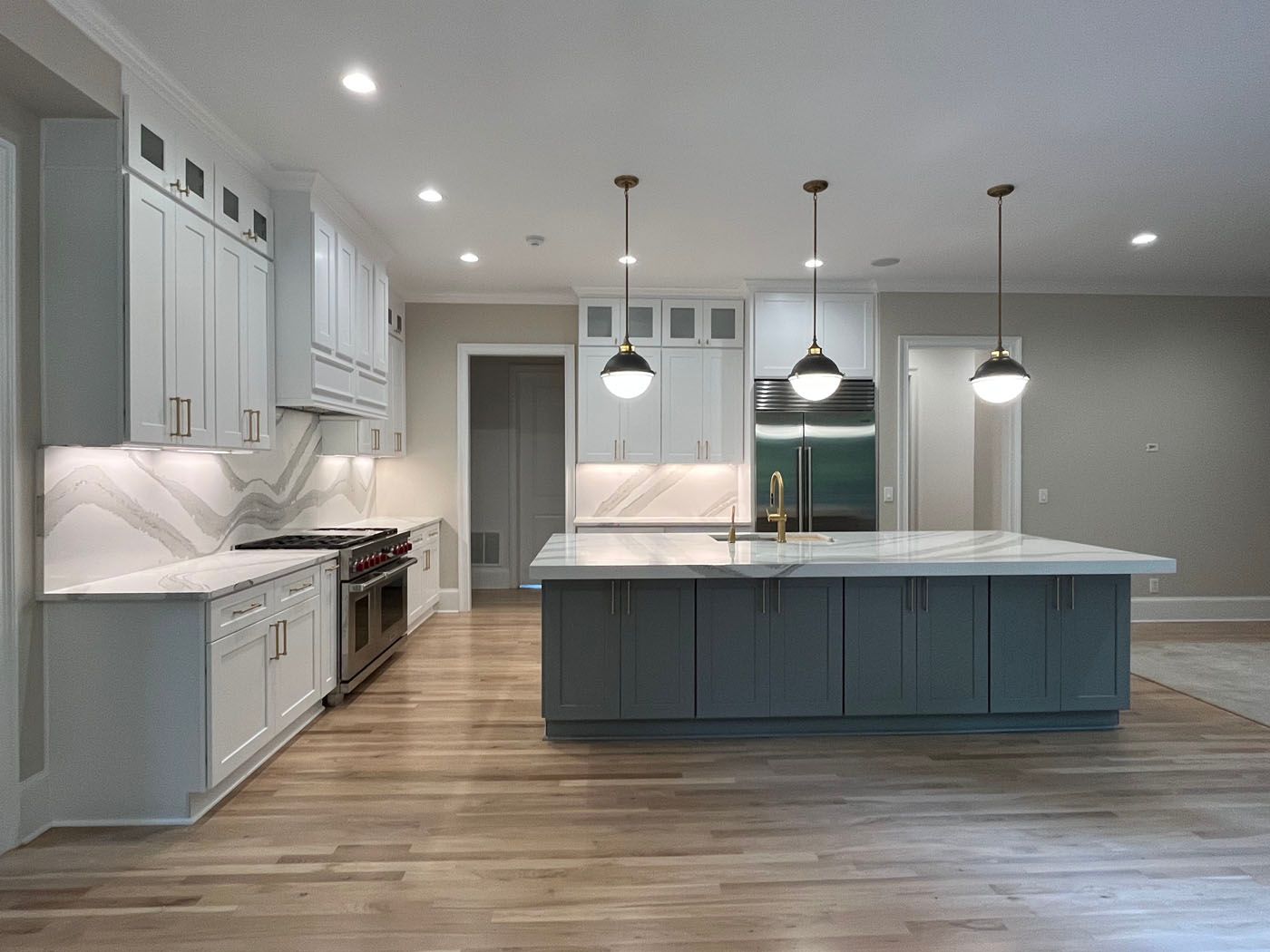 "There are a lot of ways you can slice and dice it. That's what we're good at," Hong said.
Another option within the $10,000 range is redoing basement floors with luxury vinyl. From 800 to 1,000 square feet can be refinished this way. The price includes everything: product, trim, moving furniture, subfloor preparation and installation.
Luxury vinyl
Popular because it's scratch resistant and waterproof, luxury vinyl is easier to maintain than hardwoods — and it's great for people with pets.
"Even in million-dollar homes, the sale of hardwood is going down, but luxury vinyl is skyrocketing," Hong shared. She attributes this, in part, to the rise in pet adoptions during the COVID outbreak.
"People are gravitating towards luxury vinyl because their lifestyle has changed. They have kids and pets that scratch the hardwood floor. Luxury vinyl looks and feels like hardwood, but it's a fraction of the price," Hong said.
Barring being totally submerged in water in the event of a flood, luxury vinyl is indestructible and can last a lifetime.
"It's not the vinyl sheets you knew from back in the day. They're gorgeous, long planks that look like wood," Hong continued. "Depending on the type of luxury vinyl you choose, we can do a basement or several rooms on the main level for $10,000."
Leah Kristin Designs
Heading-up a full-scale design firm specializing in country club and high-end residential projects nationwide, Kessler provides space planning, procurement and FF&A (fabrics, furniture and accessories) selection for renovations and new construction.
According to Kessler, for $10,000 one could consider changing up the furniture and accessories of a space or adding a fresh coat of paint or wall covering.
"Sometimes a small refresh can give a space a completely new look," Kessler said. New pillows for example, or the addition of a decorative window treatment, can soften a room.
She advises clients to keep large-ticket items like upholstered pieces more neutral while adding pops of color or bolder patterns in less expensive items like pillows and accessories.
This allows for the easy transformation of a space's look.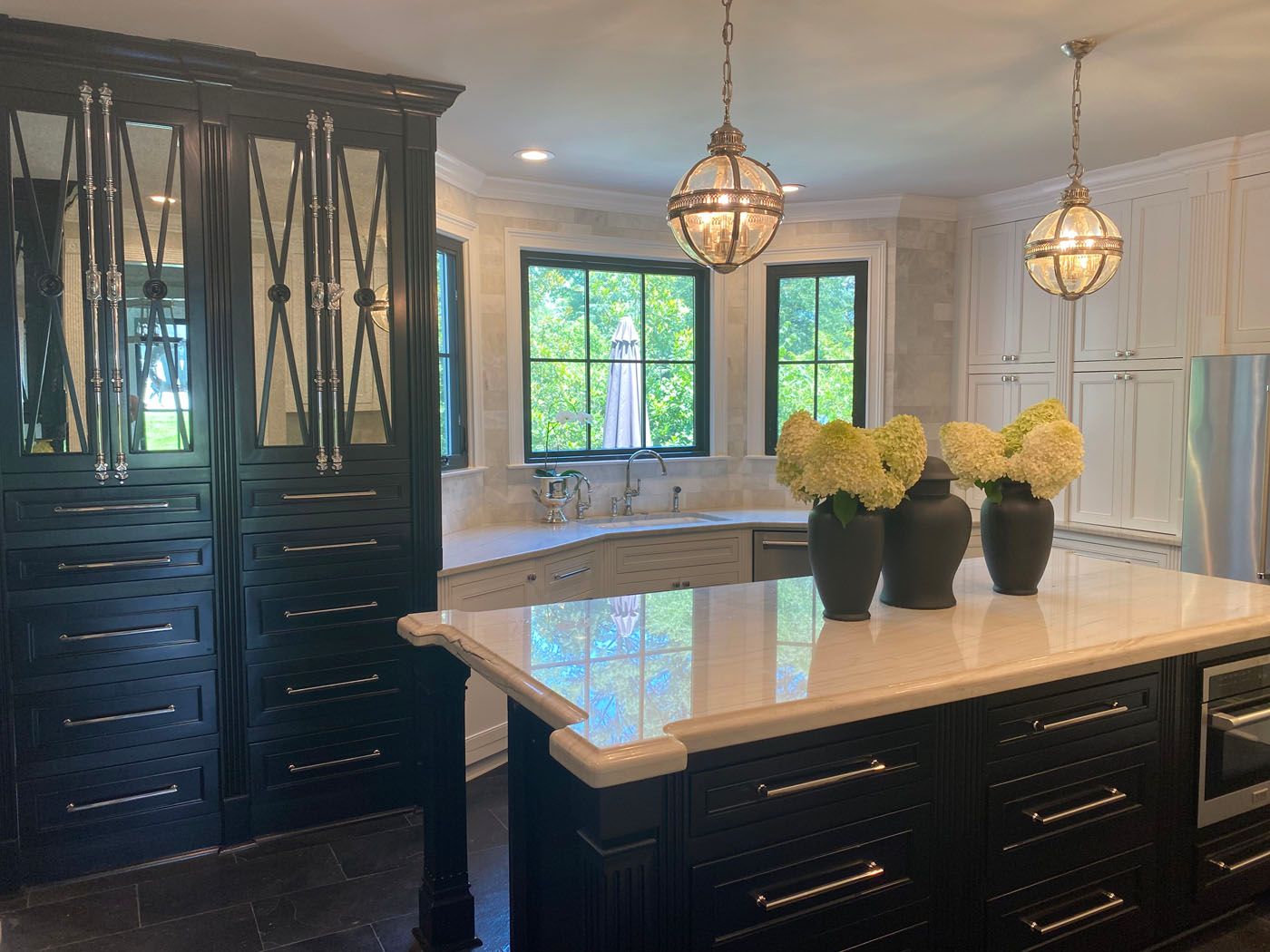 Ever-evolving design trends allow for paint and wall coverings to quickly make a huge impact.
"We've all been in homes that have a color change from one room to the next going from gold to hunter green to burgundy. Or every room has an accent wall painted in a very loud color," Kessler said. "Current design trends are much lighter and more neutral."
Today, swaths of cream, white, taupe and gray fill homes, achieving an overall more cohesive, airy look.
A reno second to none
Renovating a smaller secondary bathroom can enhance a home without being a huge undertaking.
It can be more cost-effective to purchase a vanity with a pre-installed sink and countertop.
"Older homes in our area have lower vanity heights. Ready-made vanities provide a higher sink height for a more updated and custom feel," Kessler said.
One can achieve the high-end look of natural stone, minus the high dollar price, by redoing floors and showers with porcelain tile. Another trend Kessler mentioned is the elimination of a bathtub in favor of a walk-in shower.
A small wet bar or butler's pantry update are other popular post-COVID projects, as homeowners make improvements to facilitate entertaining. Adding cabinets, installing a new countertop and backsplash, incorporating a beverage fridge or wine cooler can enhance a small kitchen, dining room or living room wall for between $10,000 to $15,000 and make it more functional.
For a $30,000 budget
EV Remodeling
For $30,000, Vaknin proposes a new guest, hallway or three-fixture bathroom remodel — down to the studs. It would include new cabinets, a counter, tiles, planning and permitting.
"Anytime you remove more than three sheets of drywall exposing walls, you need to pull a permit. You'd be replacing the light fixture and adding an exhaust fan. An electrician and an HVAC company will vent it out of the house. The faucets require a licensed plumber. All those things must be inspected by a city inspector," Vaknin affirmed.
Certified contractors know current building codes, but a permit ensures everything will be up to code.
"I like the homeowner to have peace of mind. If a mistake is made and the city inspector fails him, that's good for the client. The inspector makes sure we're all on the same page," Vaknin explained.
A kitchen renovation at this price point would include replacing the countertop and backsplash, painting the cabinets — and there may be enough to upgrade a few appliances. If cabinets date from the 80s, it might be wise to consider getting new ones so tracks and doors function properly.
"You want to upgrade the hardware and the inside too. It can be $5000 just to paint cabinets in a small kitchen. I don't think that's a good choice in an older kitchen," Vaknin said. Especially since new soft close cabinets and new hardware would cost $10,000.
Vaknin also recommends an accent wall behind the bed. It can be adorned with wood paneling or shiplap, for example. Replace furniture, light fixtures, a ceiling fan, carpet or — depending what's going on in the rest of the house — install wood floors.
The garage is the new front entrance
We all enter and exit our homes through the garage. It practically serves as the front door.
For $20,000 to $30,000, you can make your garage a welcoming place to enter your house, provided you're starting with a solid concrete floor free of cracks or any sinking issues.
Vaknin recommends refacing the floor in an epoxy finish with an array of colors to choose from. "Darker colors like gray and black are best to hide oil spills and tire marks," he suggested.
A garage makeover would include new cabinetry to hide any disorder and prevent the dust and pollen buildup that occurs on open shelves.
For additional storage, Vaknin envisions shelves hanging from the ceiling where "same-size boxes" can be stored neatly.
Floor Coverings International
For a "Wow!" factor, the floors and stairs in about 1,900 square feet of space can be sanded and refinished and old carpets replaced with new, nylon carpet for $30,000, according to Hong. That could cover practically the entire house.
In addition, Hong recommends redoing all the handrails.
"People are updating old white wooden spindles to metal. Back in the day, they had the spiral, rounded handrails. Nowadays, square posts and handrails — a sleek, boxy look — is popular," Hong explained.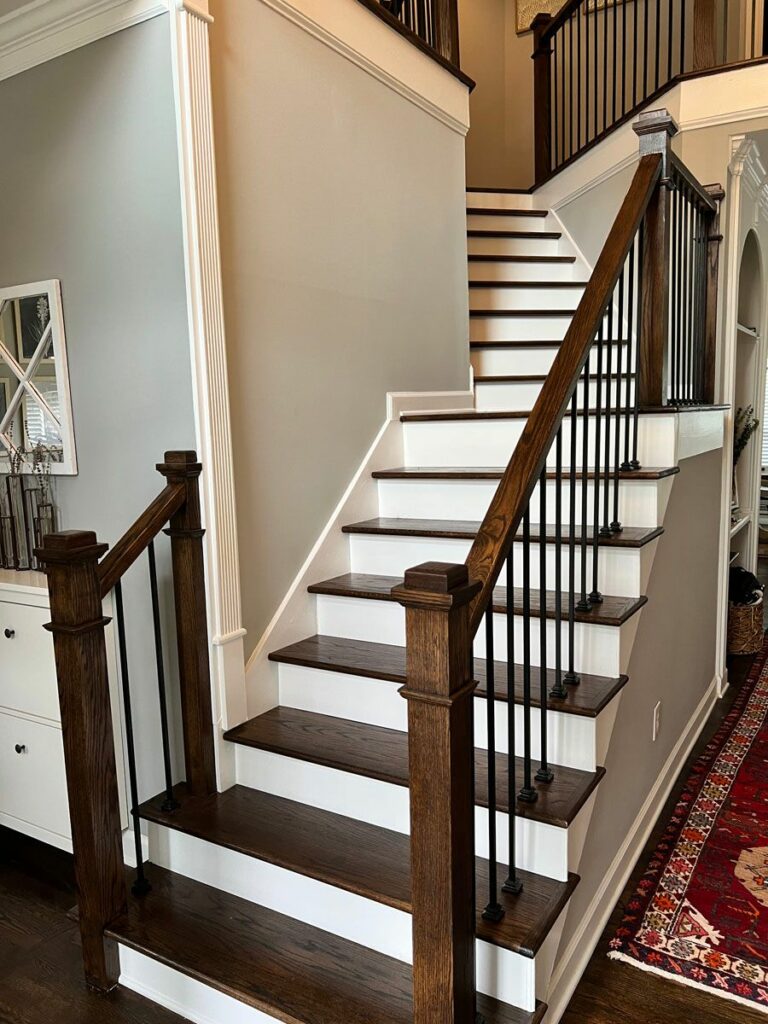 Engineered hardwoods
Another option for about $30,000 is a designer brand of engineered hardwoods covering about 2,000 square feet of space. "It's a beautiful, wide plank, gorgeous caramel color. This is very upscale and sexy for people who like design," Hong said.
Engineered hardwoods are for homeowners who prefer natural materials. "People think engineered hardwoods sound fake," Hong said. "But they're made of layers of real wood built up to make pieces of wood, whereas solid hardwood is one piece of wood," Hong explained.
Typically less expensive than solid hardwood, engineered hardwood is popular for homes on concrete slabs. It's installed with a glue-down application.
This product is not to be mistaken with what you find in home improvement stores where they sell 90s versions of engineered hardwoods for $3.50 per square foot.
"The designer brand retails for about $8 a square foot. You can go anywhere from cheap engineered hardwood to nicer brands," Hong said.
A more rustic, wire brush matte texture hides scratches. If you have pets, Hong advises avoiding smooth finishes. As with solid hardwoods, a glossy finish makes scuffs more prominent.
Leah Kristin Designs
New architectural details like beams, wainscoting and trim that add drama and elegance are what Kessler envisions for $30,000. She advises converting open bookcases to more decorative cabinets, keeping storage behind cabinet doors to hide cluttered shelves.
For a $50,000 budget
EV Remodeling
Putting $50,000 into your primary bathroom allows for the relocation of plumbing and the removal or repositioning of walls that won't affect the home's structural integrity. Tile materials can range from porcelain to Carrera marble, though Vaknin recommends porcelain for ease of care.
Or it may be time to bring that old deck up to code. In most cases, a deck will have to be torn down and rebuilt. "You don't want to build a new structure on top of an old one," Vaknin cautioned.
For $50,000 you can have the deck of your dreams, minus the fireplace. I tried to squeak one in — Vaknin advised it would add considerably to the cost.
The structural material of the deck should be pressure-treated pine. Vaknin recommends composite material for the decking boards and railings to provide 30 years of worry-free upkeep.
Metal railings with horizontal cables are the up-to-date, preferred choice for unobstructed backyard views.
To stay within an existing footprint without moving any walls, Vaknin highly suggests a full kitchen remodel as the best bet for a $50,000 budget. It could include new countertops, cabinets, backsplash, appliances, an architect's plans and permits.
Leah Kristin Designs
Kessler also champions a kitchen redesign for $50,000. It's her most popular client request.
"The kitchen is where people gather, whether they're entertaining large groups for a special occasion or just winding down at the end of the day with family. A well-designed kitchen that is both functional and comfortable is hugely important," Kessler said.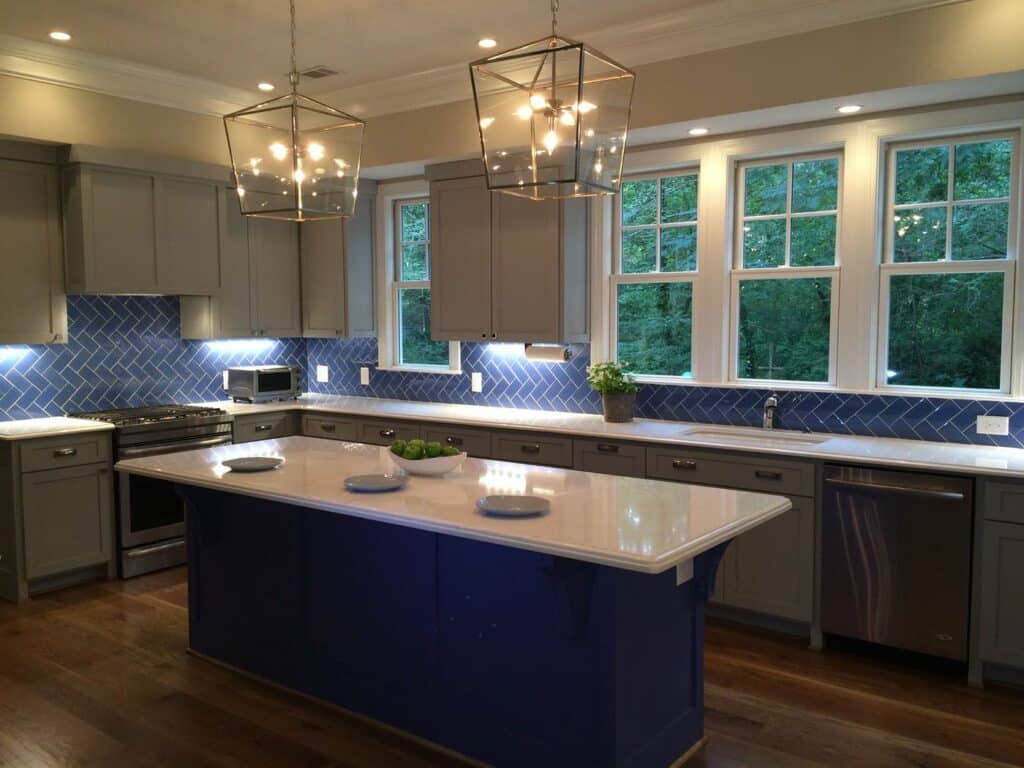 Floor Coverings International
If you want your home to look like a million-dollars, Hong suggests updating about 2,900 square feet of flooring for $50,000. That price gets you three stories of luxury vinyl, except for bathrooms, where you may prefer tiles.
Included are an attractive stair runner on the main staircase and a back staircase in luxury vinyl treads and white risers that look like hardwoods.
Stair runners help prevent both pets and humans from slipping on the steps. They're decorative and popular here in the South.
A new stair runner on your hardwood stairs can range from $1,600 to $5,000 depending on your carpet choice. "Stairs are big. They're often the first thing you see when you walk into a house," Hong said.
If your home came with a stair runner, the wood underneath is likely lower grade. Hence, removing a stair runner could mean replacing all the stair treads, a $3,200 job.
Careful what you crave
Another flooring trend is special order, 7" wide plank, white oak floors. "The wider planks are in, but it's not so good for solid hardwood, which expands and contracts with temperature and humidity fluctuations," Hong warns.
If you want the coveted look of natural European white oak, get 7" engineered hardwood instead. Along with new matching stair treads and a runner, $50,000 will cover about 1,500 to 1,700 square feet of space, if laid in a straight pattern.
"We make sure to educate our customers. We share the pros and cons of each option. It's ultimately up to them, but we let them know the implications," Hong shared.
For a $100,000 budget
EV Remodeling
Set your sights on maximizing the use of your backyard with a blow-out budget of $100,000. Vaknin recently transformed his own backyard into a private resort. The renovation included an outdoor kitchen, an al fresco patio that runs along the backside of the main floor and a section of patio with overhead coverage.
Clear plastic panels atop wooden beams provide protection from the elements but still allow sun to shine through. This price also includes grading, concrete, massive pavers and new, horizontal, modern fencing.
Floor Coverings International
This budget commands splendiferous floors! It's easy to spend $50,000 in a bathroom on high grade porcelain tiles or marble on floors, walls and shower stalls. Incorporating a chevron pattern, decorative shower pieces, or mosaic tile drives the price up.
Renew two bathrooms and voilà — $100,000.
When working with $100,000, Hong feels the utmost attention must be given to an overall design element. Laying floors in a herringbone pattern in strategic areas, for example, would fall within this budget. It's a great way to accent a hallway, a primary bedroom or the front entrance.
Material options for herringbone installations are tile, solid hardwoods, engineered hardwoods and luxury vinyl.
Border designs could be incorporated too. Picture a porcelain or marble tile foyer surrounded by wooden, herringbone floors.
Hong suggests choosing porcelain instead of marble because it's durable, it'll stretch your decorating dollars and you still get the beautiful, veined look of marble.
Leah Kristin Designs
A finished basement is what Kessler suggested for a $100,000 home improvement project. The designer believes it's best to focus on completing one room or area at a time instead of doing a little here and there.
"Your home should be a reflection of your personality and style. Pictures, accessories and furnishings that speak to you tend to speak to each other, creating harmonious spaces," Kessler offered. "Buy things you love. They'll be emotionally satisfying even 20 years down the road."
No need to pack!
Which of these renovations would turn the home you already love into the home you'd never want to leave?
Hiring professionals to do the heavy lifting required to beautify, renew and improve your dwelling's functionality is key. Consider a one-stop-shop general contractor like EV Remodeling.
For your flooring needs, a five-star company like Floor Coverings International "brings the floors to your doors" with mobile showroom-outfitted vans.
Finally, an interior design firm like Leah Kristin Designs will devise a cohesive plan for your treasured abode.
So, stay and enjoy your home in a whole new way!

Ribbon Cutting Held at New Gwinnett Homeowner Resource Center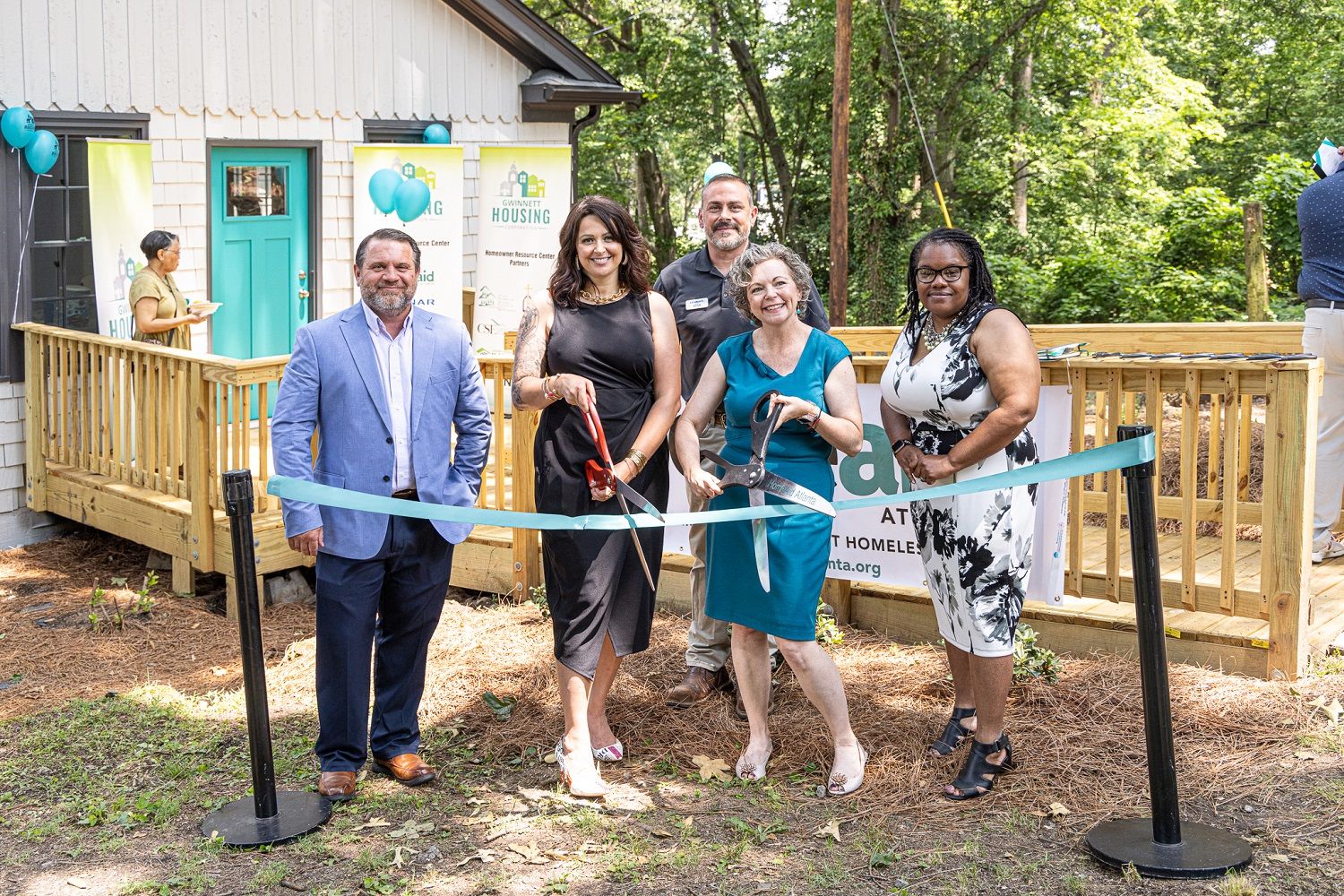 Gwinnett Housing Corporation (GHC) has opened Gwinnett County's first Homeowner Resource Center. To aid in its development, GHC was proud to partner with Norcross's Downtown Development Authority (DDA) to facilitate the building acquisition at 128 Lawrenceville Street in Norcross. The nonprofit also partnered with HomeAid Atlanta and Lennar to renovate the building. 
With its sights set on officially opening the center's doors to the public in July 2023, GHC hosted a ribbon-cutting ceremony at the site on June 5.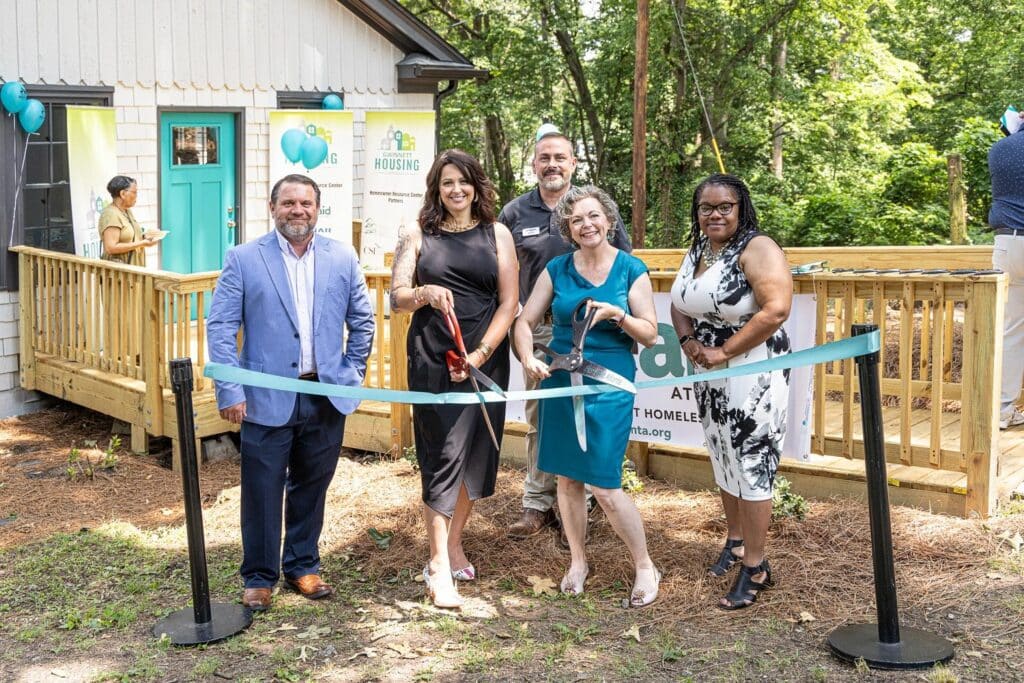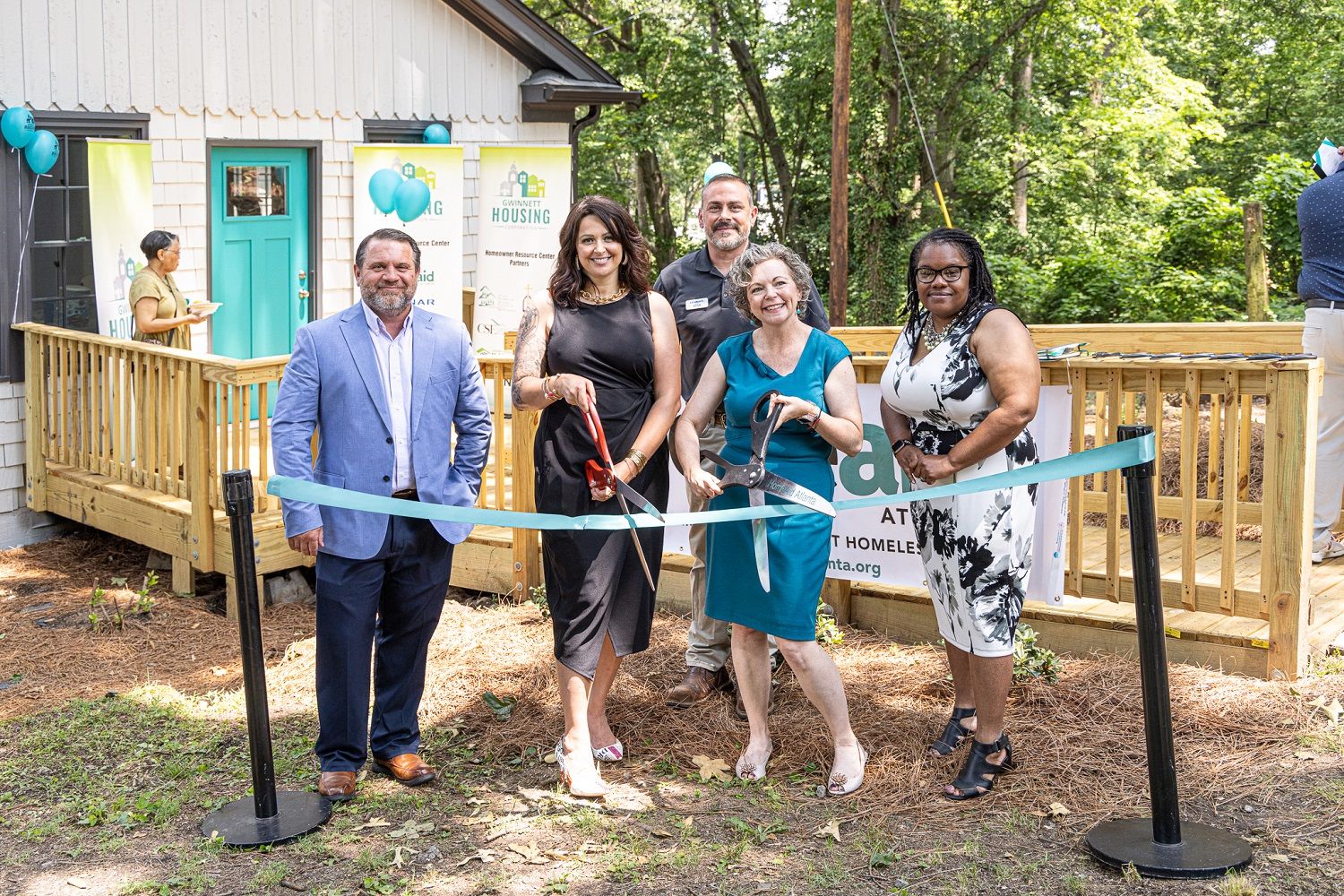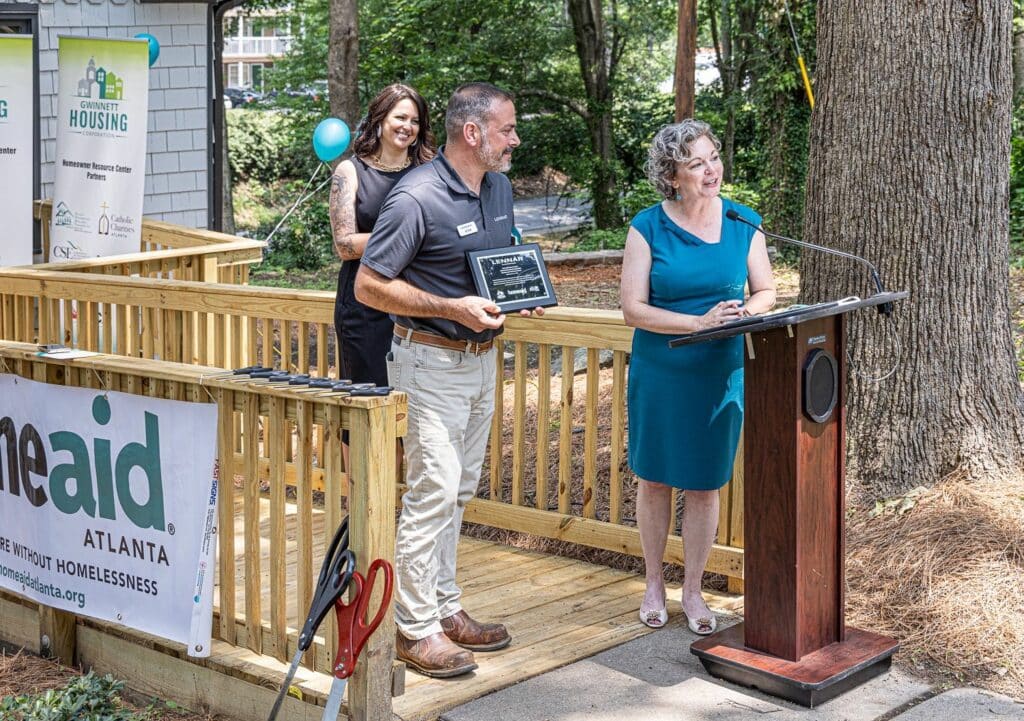 "The Norcross City Council and Staff, Downtown Development Authority and I are all honored that our city is the birthplace of this first-of-its-kind offering for families in need in Gwinnett," said Mayor Craig Newton. "As a Place to Imagine, Norcross offers the ideal setting for aspiring homebuyers not only to imagine but realize their dreams of homeownership."
Other local leaders in attendance included Gwinnett County Chairwoman Nicole Love Hendrickson; Gwinnett County Commissioner Kirkland Carden; City of Lawrenceville Mayor David Still and Council Members Marlene Crawford Taylor, Victoria Jones and Austin Thompson; City of Norcross Council Members Matt Myers and Josh Bare; and City of Norcross DDA Members Lauren Summers, Will Shipley and Jim Eyre. Martha Revello of Senator Raphael Warnock's office and Kyra Reed of Congresswoman Lucy McBath's office were also present.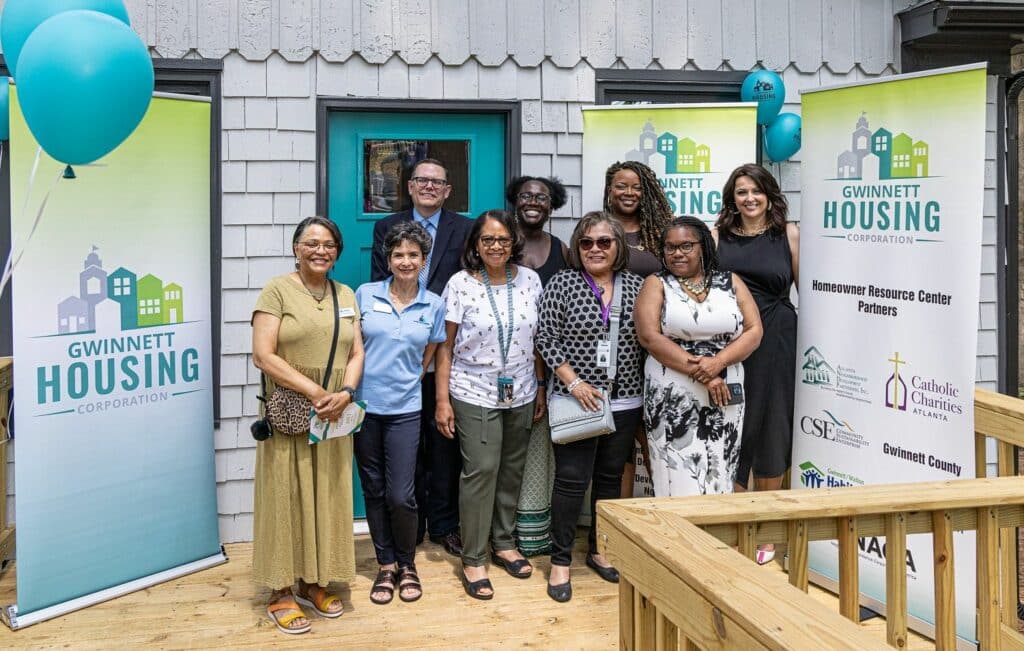 The event opened with an address from GHC CEO Lejla Prljaca about the growing housing crisis. During her speech, Prljaca highlighted partners that will collaboratively work to ensure that more low-to-moderate-income residents in Gwinnett will have the opportunity to become homeowners. The Center and its partners will also provide resources to low-to-moderate-income homeowners in Gwinnett to help them retain ownership of their current homes.
Through the Gwinnett Homeowner Resource Center, the GHC will provide programming in cooperation with other partner organizations, which include Habitat Gwinnett, Atlanta Neighborhood Development Partnership, Inc. (ANDP), Money Management International, Catholic Charities, Community Sustainability Enterprise, the Gwinnett County Housing Department and Neighborhood Assistance Corporation of America (NACA). Programs will include housing counseling, referrals for down payment assistance, access to non-profit developers, lenders, owner-occupied rehabilitation and home modification activities.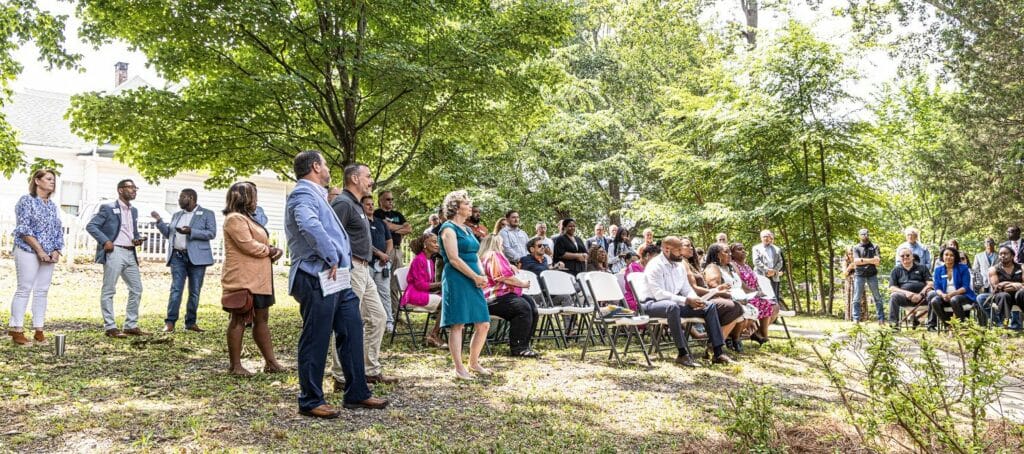 "We are very excited to offer this important resource to support Gwinnett families and preserve homeownership rates in Gwinnett County," said Prljaca. "First-time home buyers are facing tremendous challenges today. …We are truly thankful to Norcross DDA and all of our partners for working with us to make this center a reality."
GHC also provides access to affordable rental housing, transitional housing and shelter assistance. Learn more about the Gwinnett Housing Corporation at GwinnettHousing.org.

Solving Space Problems and Making a Home Easier and More Enjoyable to Live In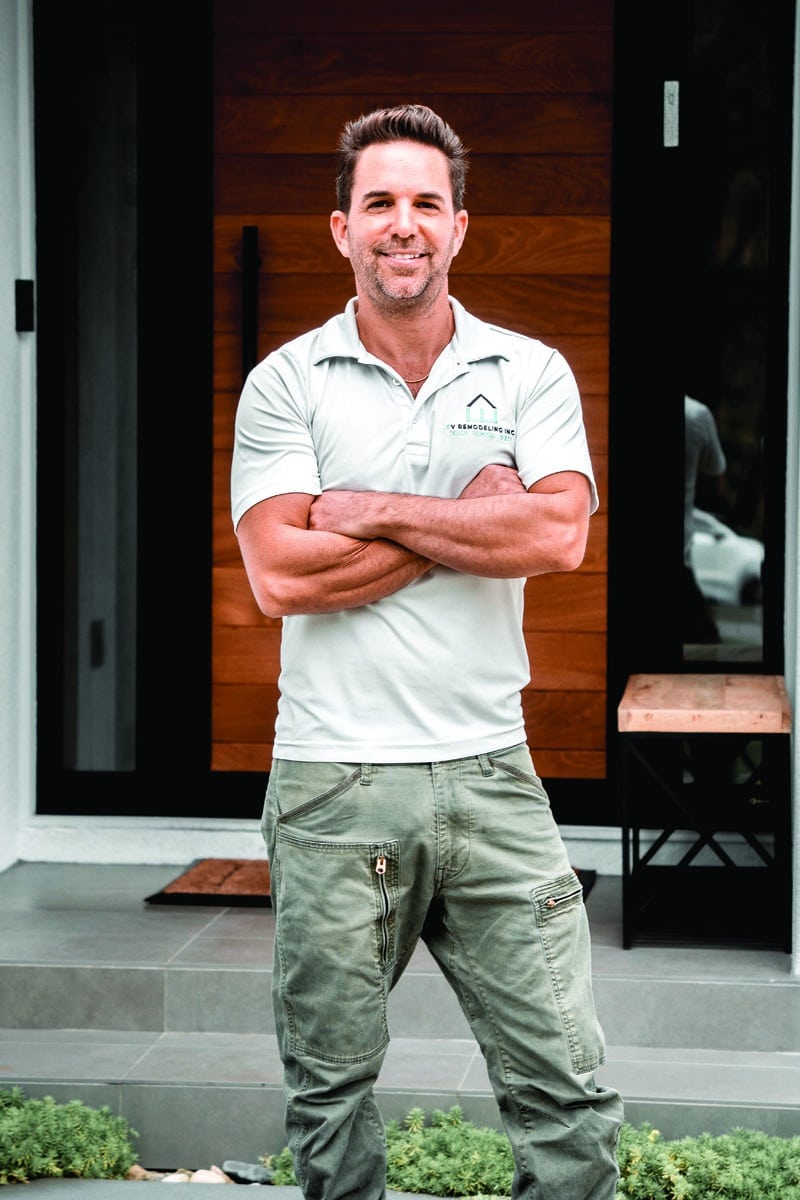 EV Remodeling focuses on a 25-mile radius around Peachtree Corners to give top-notch, personalized service.
Although Eliad Vaknin started EV Remodeling at the end of 2019 in Peachtree Corners, his years of experience and dedication to the craft go well beyond that.
"I started my business years ago, but it was a different name because I had a business partner," he said.
When Vaknin decided to strike out on his own, he made a vow to give clients personalized and individual attention. "I consult with clients throughout the project, connect them to the right architects, get the proper permits, and help them choose the designs and items that are right for them," he said. "I'm here for them every step of the way."
Although home remodeling has seen a measured increase in the last decade — especially since the pandemic hit — the process can be daunting. Vaknin said he often hears horror stories from clients about contractors who left them frustrated and wary of ever taking on another home improvement project.
"For us it's more than just another project," he explained. "Our clients deserve our time, care, and attention to detail. It's my personal goal to make sure that everyone is not just happy, but ecstatic, at the end of the remodel."
Above and beyond customer service
Vaknin recalled a customer who wasn't completely satisfied with a tile job almost two years after a bathroom remodel was finished. Of course, any kind of warranty would have expired by then.
"I contacted the subcontractor and had him fix the problem — at my cost," he said. "In my business, customer satisfaction is the most important thing. I learned early on that being able to see someone's face as they watch their house transform into their dream home is among one of the best joys in life."
It cost Vaknin about $150 out of his pocket, but the client was so pleased with the results and the seamless, hassle-free interaction, that he contracted with EV to completely redo the main level of his house.
"Since those early days I have made it our mission to make sure that everyone we work with has an enjoyable experience from beginning to end. After all, upgrading your home is something that should be exciting for you throughout the entire project," he said.
Filling a need
Nowadays, homeowners have more time to think about improving their dwellings, but a trade labor shortage has been impacting the industry for several years. It's made home renovations take longer to complete — or impossible to complete altogether — and cost more money than usual.
Since around 2018, the U.S. has seen a shortage of tradespeople for projects like kitchen remodels, bathroom remodels, flooring and electrical work. In addition, necessary supplies — including wood and metal — aren't always available due to a materials shortage.
Although he doesn't have any magic powers to keep those problems from plaguing his business, Vaknin said he treats suppliers, contractors and customers with respect.
EV Remodeling isn't the cheapest contractor in the area, but it's certainly among the most reliable. That's a value that Vaknin brought with him when he immigrated from Israel in 2009.
"My father was a contractor, and I learned the trade from him. It's always been in my veins," he said.
Vaknin started out in new home construction, building about 60 houses ranging in price from $500,000 to $1.5 million. However, he said he prefers the personal connections he has made working with existing homeowners.
"You might not ever meet the person that you built a home for," he said. "This way, I know the customer is getting exactly what they want."
Vaknin said he thinks of himself as a problem solver. "A lot of times, when you come into people's homes, they have problems that they need you to solve," he said. "It's either the kitchen is too small, the family has grown and they need additional room or stuff like that. …I help people solve problems and make their lives easier."
Focus on family and community
Although 2020 saw $420 billion spent by Americans on home improvement projects, subsequent years are projected to surpass that, according to a study last year from the Joint Center for Housing Studies of Harvard University. That same research shows that homeowners are also willing to spend more on home improvement projects.
The pandemic forced many to stay inside for months and a lot of Americans have been reluctant to return to offices. For them, having a functional, comfortable and livable home is a top priority — even in the face of higher material costs.
Vaknin continues to see a rise in remodeling projects for office space and home entertainment, but his bread and butter is still kitchens and bathrooms. That's why he said he likes to keep his business in a tight radius, about 25 miles with Peachtree Corners as the epicenter.
It has helped him give his clients the time they need since he's not spending so much time traveling around metro Atlanta. "Maybe that's what makes me different than other contractors because …I'm controlling my schedule and my time. I really can give each client the attention that they need," Vaknin said.
He recalled a family who wanted to add a bathroom for their four teenage daughters who had been sharing one bathroom. Most contractors said the only solution was to add a bathroom to the basement, although the girls' bedrooms were on the second floor.
"It was doable, but it wouldn't be convenient to have them go down three flights to get ready," said Vaknin. "I'm sure there would still be fights and arguing every morning."
He consulted with his best subcontractor and they came up with a solution to add a bathroom upstairs without increasing square footage. "It required kind of a complex work with plumbing," said Vaknin.
Everyone was happy with the solution.
Vaknin knows how important a happy home is. He has two children — a 9-year-old daughter and a 6-year-old son. He said that he and his wife, a real estate agent, hope to pass on their values to their kids.
"I will let them decide if they want to someday take over my business," he said. "But I want them to know why I do it and what it means to be a good businessman and a good member of the community."
Bathroom Renovation Photos by IMOTO, Family Photos by Oshrit Hakmon