Norcross Volleyball Standout Looks Back on Winning Season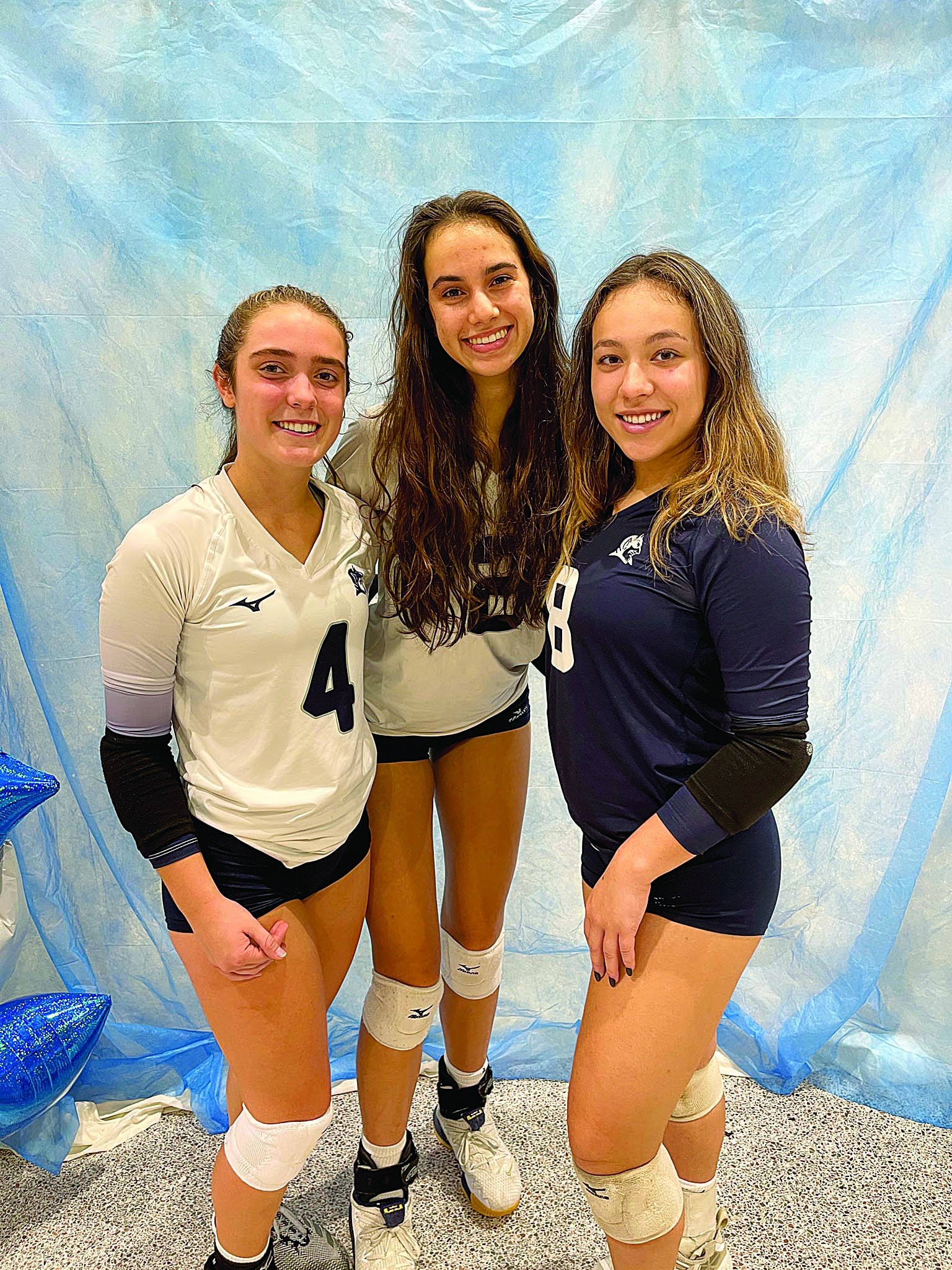 Athletics are just one facet of Maya Ballerstedt, a young woman whose passion for art, leadership may lead to a global future
Maya Ballerstedt is a senior volleyball player at Norcross High School who helped lead the Lady Blue Devils to a Region 7-7A title and a playoff appearance. Maya took time to talk with Peachtree Corners Magazine about how the Lady Blue Devils turned around a 3-10 start to the season with an 11-match winning streak. Maya also spoke about her love for art and what she's doing to promote artists who are people of color.
How long have you been playing volleyball and how did you get into it?
I have been playing for five to six years, but I started Norcross volleyball my freshman year. I tried out for my middle school team, and I didn't make it, but I tried out again in eighth grade and I made the team — and I've loved volleyball ever since.
Your senior season was pretty up and down, but you made it to the first round of the playoffs. What did you learn from this season?
We had a really great season, in my opinion. It started out rough. It was really hard and difficult, much more than any season in the past, but the entire team worked so hard, and we realized our potential. I think we ended up becoming a really good team. It's sad that we got out so early, but we had a lot of potential.
We had a lot of players on Varsity who had been there for three years and were starters, and we also had a few freshmen who were really good, so it was a different team dynamic than other teams that I had been a part of in the past. We know how we can improve, and we like a challenge.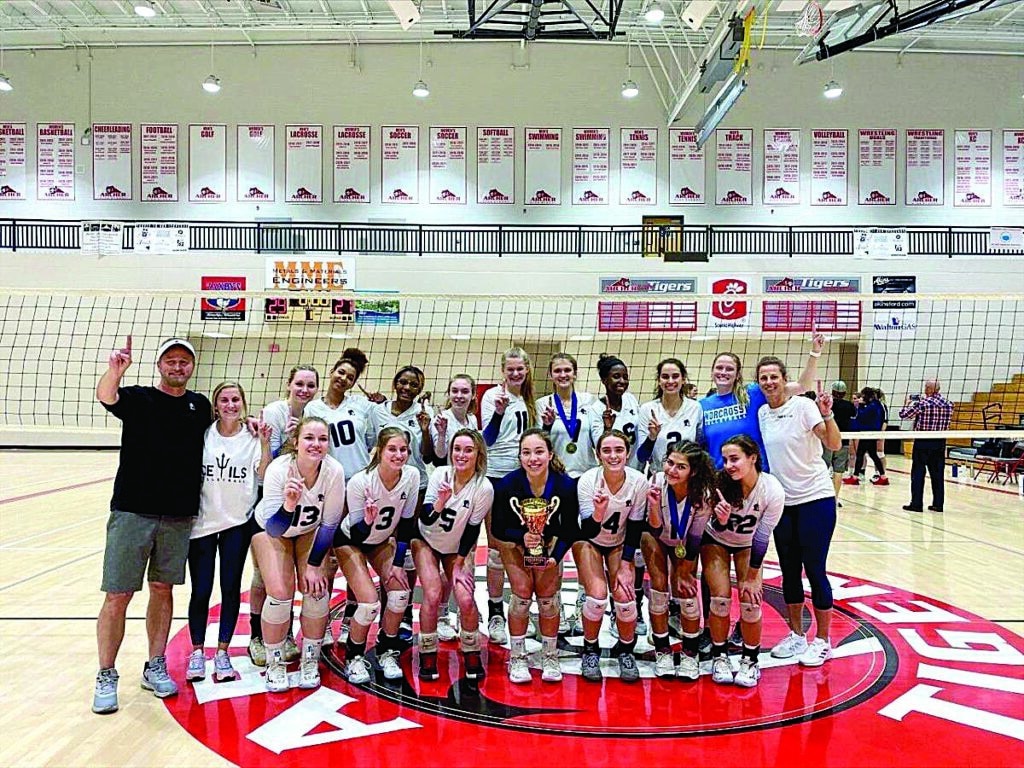 You guys started the season 3-10. How did you endure that?
We were losing a lot for a while. We knew that this team had a lot of potential at the beginning. Every day we just worked really hard, and I think we finally met our potential by the end of the season.
You turned it around with an 11-match winning streak.
It was awesome. So much fun. Just being a part of that team was a great experience.
What role would you say you played for your team this year?
I think as a senior, I stepped into more of a leadership role. When I was a freshman, I was very shy and intimidated by the seniors. But this year, we all cooperated with each other. I think because I stepped up into my role, I felt like I could help younger players. Even off the court, I like to think of myself as a mentor.
You had 128 kills on the season. What do you think contributed to that?
I think I became more aware of what I wanted to do and intentional with my play and my goals on and off the court.
What emotions were you feeling when you lost the playoff game knowing it would be your last game?
Even though we lost, it was a really great game, but I was crying after. It's hard knowing that's the last time you're going to be playing competitive volleyball, especially because I'm not playing in college.
Have you played any other sports?
I played tennis my freshman year. I've been playing tennis my entire life. I picked up volleyball after tennis. I love tennis, but I like playing volleyball competitively. I love that it's a team sport and it's really dependent on your mindset. If you have a bad mindset that day, your team can't win. I just liked having a team that I was with all the time and I had to depend on.
What are the memories you're going to take away from your senior season?
I think just winning region, that was awesome. At the end of the game, our team had a big dogpile, and it was so fun.
What are your college plans?
I'm going to the University of Pennsylvania and I'm going to be studying philosophy, politics and economics. I've always wanted to go to a school in a city with students who are driven but also very social and outgoing. It'll definitely be a change. I'll be away from home, so I am nervous about that. The weather will be colder, but I'll get a warm jacket.
What career field(s) are you interested in?
I was thinking maybe something to do with nonprofits. I'm really interested in something global.
When you're not playing volleyball, what do you like to do?
I love art. I think art is really important. I'm in [International Baccalaureate (IB)] Art. I'm completing my gold award right now for Girl Scouts and I'm creating art curriculum for elementary schools with artists who are people of color so kids can better relate to those artists.
I love painting. Right now, my IB theme is seeing how people perceive nature depending on their culture and where they're from.
You have any favorite shows or movies?
I like The Good Place. I like TV shows more.
What are your favorite foods?
I love sushi. It's one of my favorite things. I love getting sushi with my friends. And mac n' cheese.
What's something that most people don't know about you?
I'm very creative and I love to try new things and be adventurous.
What advice would you have for a young volleyball player?
Don't give up. Try new things and if you think something feels awkward at first or it doesn't feel natural, just keep on working at it and know that with hard work you will get results.

GAC Announces New Head Volleyball Coach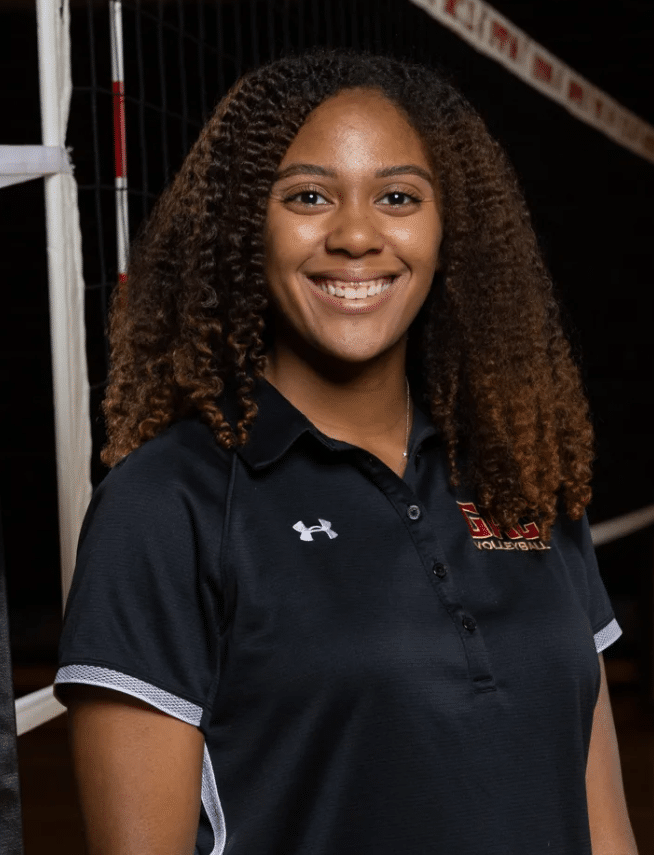 The Greater Atlanta Christian School (GAC) Athletic Department has announced that Crystal Lee will take the helm as the new Head Volleyball Coach at GAC.
"I am excited to announce that we have selected Crystal Lee as our new Head Volleyball Coach," said GAC Athletic Director Tim Hardy. "Crystal Lee embodies the characteristics we want in a head coach at GAC. First, she has a strong Christian faith that guides her daily life.
"Second, she has a natural ability to connect with student-athletes and foster trust through relationships. Third, she loves Volleyball and has a passion for using the game to develop her athletes as people, as well as players. Finally, she has a clear vision for the future of Spartan Volleyball."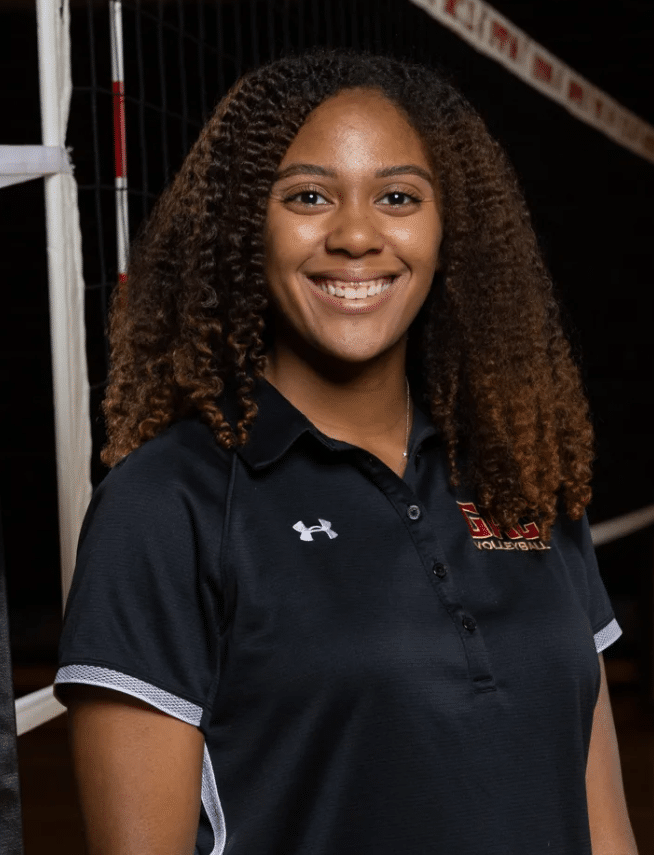 Coach Lee was a GAC Varsity Assistant Coach during the 2022 season and played an instrumental role for the Spartans' state championship team. She previously coached at Johns Creek High School from 2019-2021, and she coached club Volleyball at 575 Volleyball and A5 South as well. Coach Lee also played collegiate Volleyball at Georgia State University from 2015-2018.
"I am honored and privileged to serve as the head coach of this program, and I look forward to inspiring and developing these young women not only as exceptional athletes but also as outstanding members of the community. It is my prayer that these young women will be guided into successful lives after GAC, regardless of whether or not they pursue athletics," Coach Lee said.
"As an assistant last year, I witnessed the program's success, but I was most inspired by the guiding principles that embody GAC's mission. The rich tradition of academic, spiritual, and athletic excellence of GAC is a place that I am honored to be a part of, and I'm humbled to take on this role," she added.

Wesleyan's Druw Jones '22 Drafted by the Arizona Diamondbacks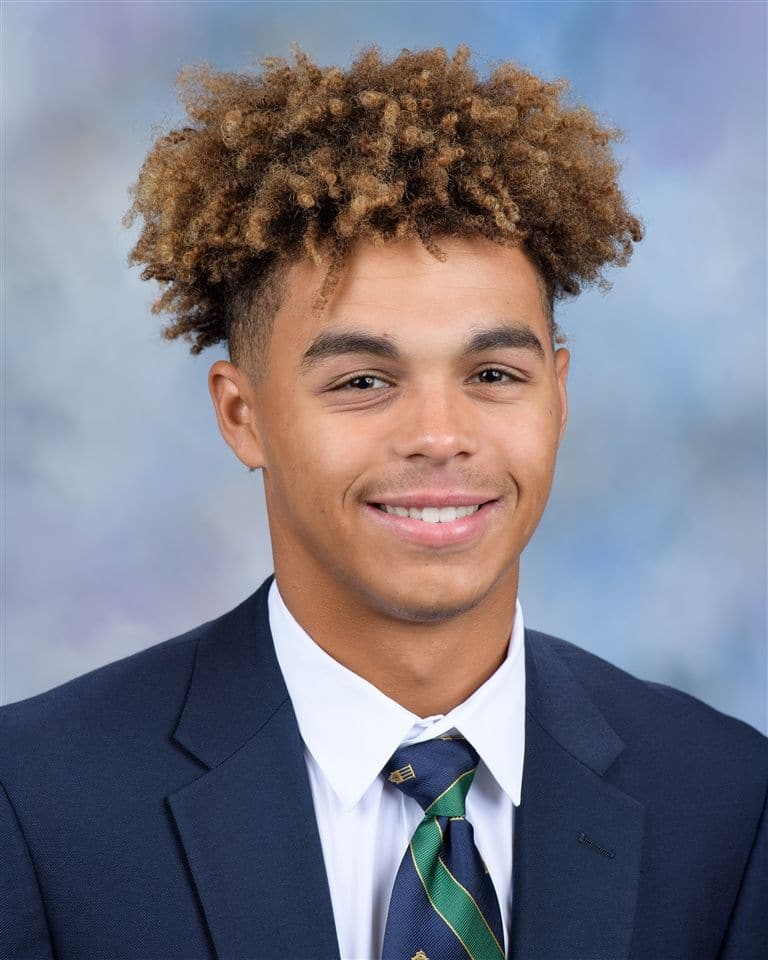 Wesleyan School graduate Druw Jones '22 was drafted by the Arizona Diamondbacks as the second overall selection in last night's Major League Baseball draft.
A Wesleyan evergreen who attended Wesleyan from kindergarten through twelfth grade, Jones completed his high school baseball career alongside his teammates and coaches when the team won the state championship in May of this year. This summer, Jones was named the Gatorade Georgia Baseball Player of the Year, and he is a two-time Gwinnett Daily Post high school baseball player of the year. Jones currently holds Wesleyan School records for career and single season batting average, as well as most hits."Coaching Druw in high school has been a delight," said Brian Krehmeyer, Wesleyan's varsity baseball coach. "Not only is he an incredibly gifted player, but he is also a great teammate. I could not be more thrilled for Druw and his family."
In his senior season, Jones finished the season with a .570 batting average, 13 homeruns, 72 runs, and 32 stolen bases.

A Look Back on the Year in Athletics at Norcross High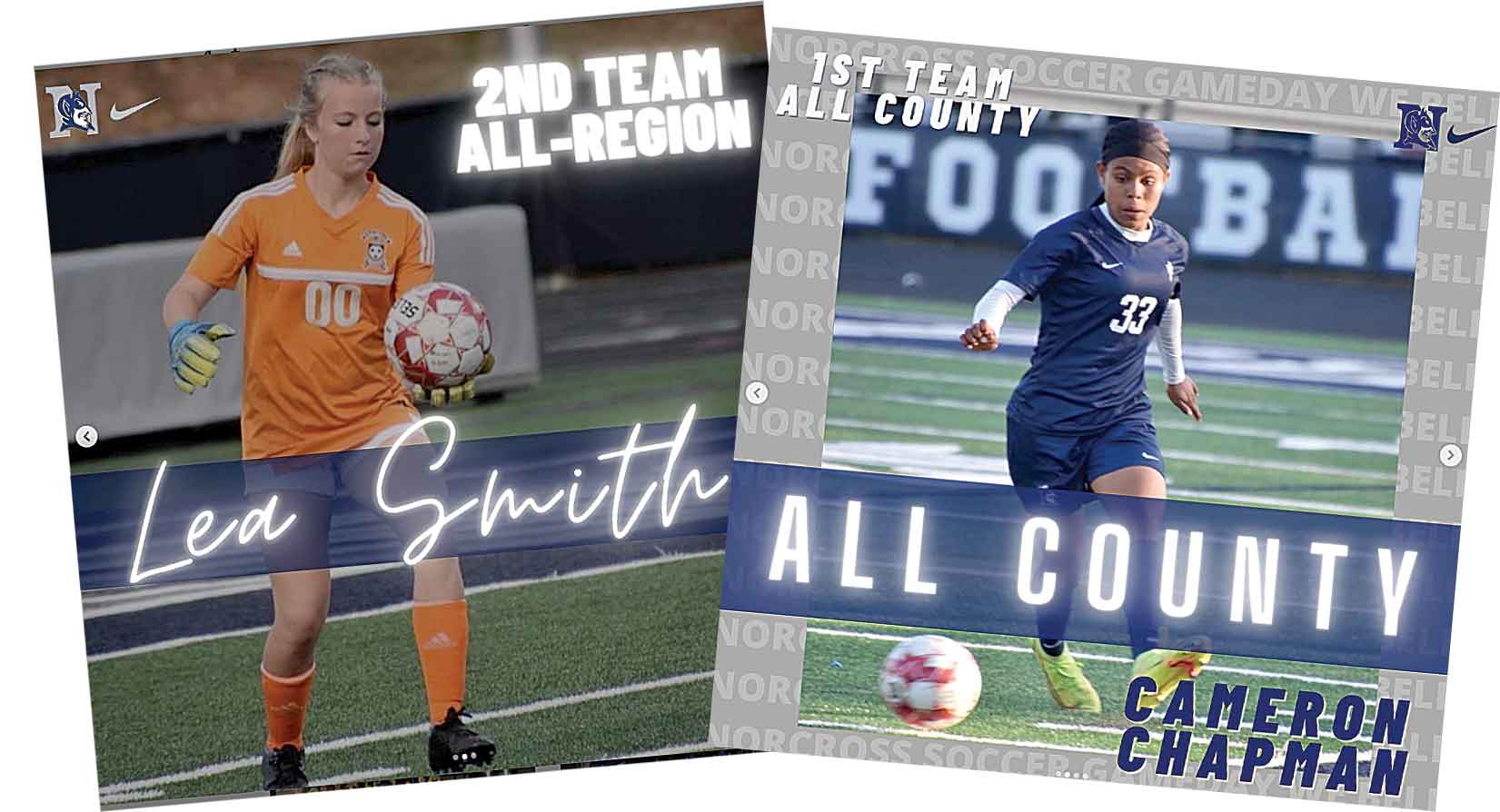 The Norcross High boys' and girls' basketball teams capped off another memorable year for Blue Devils athletics by winning state championships in March. The two programs have 10 state titles between them, all coming within the last 20 years, and this season was the third time both teams have won the title in the same season.
Boys' coach Jesse McMillan and girls' coach Ashley Clanton both said their teams came into the season with talent but not much experience. Both coaches watched their teams grow up quickly as they faced early tests in the first half of the season before hitting their peak in early February.
The boys' team won 11 of their last 12 games to close out the season, finishing with a 26-6 overall record and a 10-2 mark in Region 7-7A. The Blue Devils won the title game 58-45 against division rival Berkmar, a team that had beaten Norcross three times during the regular season.
The Blue Devils were led by junior guard London Johnson, who is ranked by 247 Sports as the 27th best prospect for the 2023 recruiting class and is the third-ranked player in the state. According to 247, Johnson has offers from 18 Division I schools, including Alabama, Clemson, Georgia, North Carolina, Southern California, Arizona State, Cincinnati, Auburn and Georgetown.
He averaged 18.7 points per game along with 3.3 assists and 1.8 steals. On the inside, Jerry Deng helped lead the Blue Devils with 14.7 points per game and 8.1 rebounds per game. Deng is a three-star recruiting prospect, according to 247, and has offers from Georgia State, Mercer, Georgia, East Carolina and Akron.
With a menacing defense, the girls' team finished unblemished in region play at 13-0 in Region 7-7A and 26-5 overall as they went on to defeat Harrison High of Kennesaw, Ga., 41-37 in the championship game. The Lady Blue Devils held their opponents to under 30 points nine times and gave up an average of 39.3 points per game throughout the season.
Senior forward Zaria Hurston propelled the Lady Blue Devils, averaging 18 points and 10 rebounds per game. She was named the 2022 Girls' Basketball Player of the Year by the Gwinnett Daily Post.
More sports success at NHS
The Norcross football team finished 8-4 in 2021 after going 13-1 and making the state semifinals in 2020. The Blue Devils made noise with a near upset of Lowndes, losing 35-34 in a thriller in the second round of the state playoffs. Standout junior receiver Nakai Poole averaged 58.6 receiving yards per game and hauled in 11 touchdown catches on the season. He has not earned a star ranking yet, according to 247 sports, but has early offers from 23 Division I programs, including LSU, Ole Miss, Georgia Tech, Auburn, Cincinnati, Virginia Tech and Virginia.
The girls' volleyball team won its fourth consecutive region title in Georgia's highest classification, earning a perfect 6-0 mark in Region 7-7A. The Lady Blue Devils came on strong in the second half of the season after an 8-15 start that included a six-game losing streak. But starting with a 2-1 win over Chamblee High on Sept. 9, the Lady Blue Devils reeled off 11 straight victories and defeated Dunwoody 3-0 in the region title game before falling to Roswell High in the first round of the state tournament.
The girls' soccer team also had a successful season, tallying a 13-5-1 record and finishing second in Region 7-7A at 9-3. The Lady Blue Devils won seven of their last nine games and earned a first-round playoff win over Milton before losing 3-2 to North Paulding in the second round. Cameron Chapman led the way with 23 goals and eight assists on the season, while goalkeeper Leah Smith made 81 saves.
The girls' and boys' tennis teams both made the state tournament, with the girls falling in the first round, while the boys made a run to the state quarterfinals before losing to North Gwinnett.
Featured in our June/July issue of Peachtree Corners Magazine