Legislative Recap with Representative Beth Moore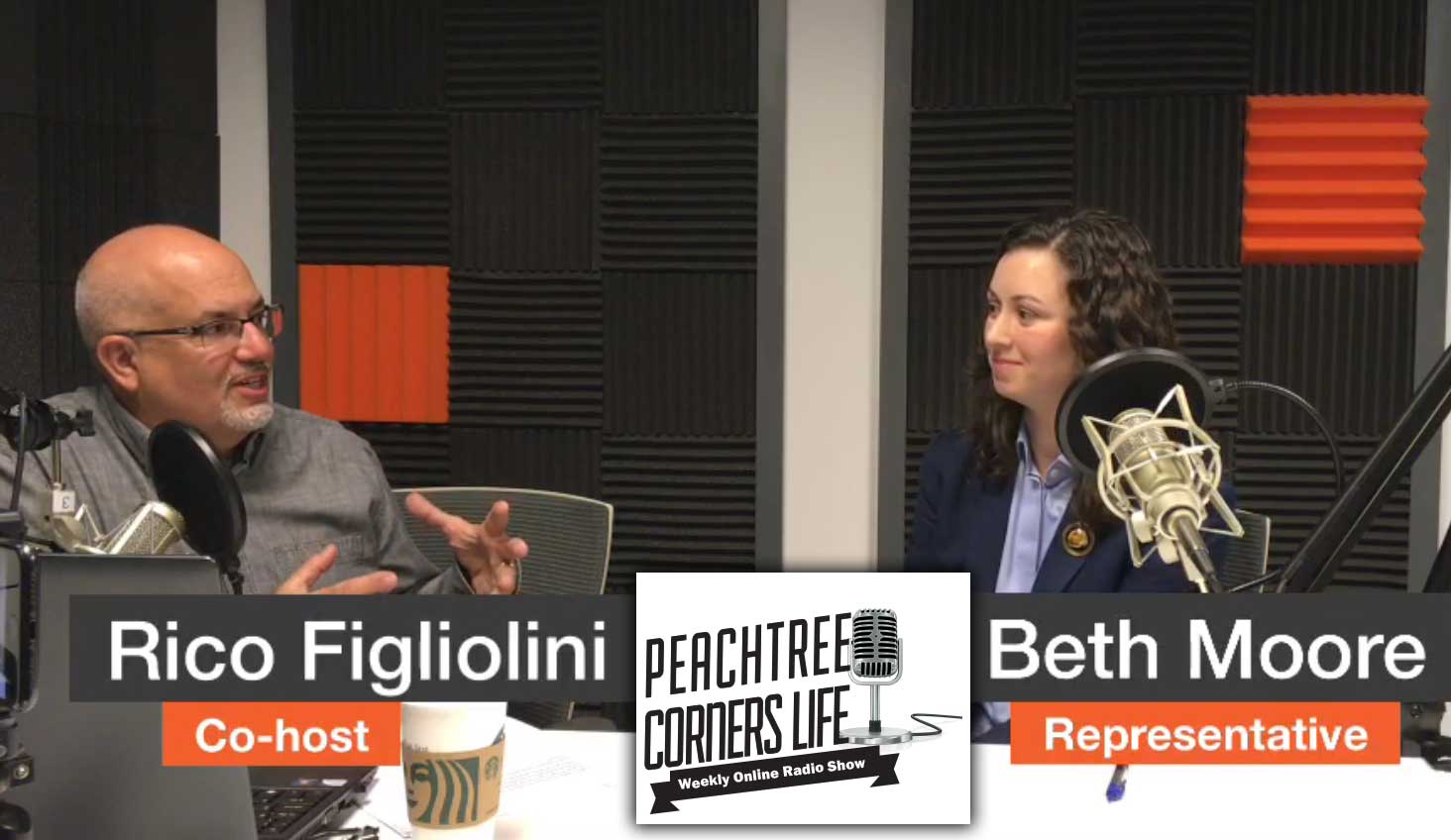 Representative Beth Moore shares her experience under the dome and recaps this years legislation with Rico Figliolini. Recorded at Atlanta Tech Park in City of Peachtree Corners, Georgia
2019 Georgia Legislative Session Overview
Some of the legislation discussed during the podcast. The votes noted here are those of Representative Beth Moore.
Healthcare
HB 37: The Expand Medicaid Now Act – Co-Sponsored. No Vote.
SB 106: Medicaid Waiver Bill – Voted NO
HB 324: Georgia Hope Act – Voted YES
HB 290: PrEP Pilot Program – Voted YES
HR 533: New Study Committee on "Innovative Financial Options for Senior Living" – Voted YES
HB 186: CON Reform Compromise Bill – Voted YES
Education
SB 108: Computer Science Classes in Middle School and High School — Voted YES
SB 15: "Keeping Georgia's Schools Safe Act" – Voted YES
HB 83: Recess for Kids K through 5th – Voted YES
Governmental Affairs and Local Legislation
HB 31: The 2019-2020 State Budget – Voted YES
HB 379: Revising Annual Reporting Requirements on SPLOST Funds – Sponsored and Passed
HB 316: Elections Omnibus Bill – Voted NO
HB 529: City of Norcross Term Lengths – Sponsored and Passed
HB 77: Monument Protection Bill – Voted NO
HB 365: Reduce the State and Local Title Tax on Vehicles to 6.6% from 7% — Voted YES
Women's Rights
HB 282: Amending Criminal Procedures Surrounding Sexual Assault – Voted YES
HB 481: Living Infants Fairness and Equality (LIFE) Act – Voted NO
HB 345: Shackling Bill – Voted YES
HR 589: New Study Committee on Maternal Mortality – Voted YES
Human Trafficking
HB 234: Anti-Human Trafficking Protective Response Act – Voted YES
HB 281: Pimping Penalty Increase – Voted YES
Public Safety
HB 122: Repealing Campus Carry – Co-sponsored. No vote.
Energy and the Environment
HR 48: Opposing Coastal Seismic Testing and Oil and Gas Coastal Drilling – Voted YES
HB 458: Banning Class B fire-fighting foam – Voted YES
SB 2: EMCs in Broadband Business – Voted YES
Representative Beth Moore is a lifelong Georgian currently residing with her husband, Lorie Moore, in Peachtree Corners in Gwinnett County. She graduated high school from Wesleyan, earned dual bachelor's degrees in psychology and German from UGA on the H.O.P.E. Scholarship, and received her law degree from Georgia State University.
Rep. Moore started her own entertainment law practice in 2012 representing artistic talent and creative entrepreneurs in Georgia's music, film, and television industries. From 2015 to 2017, she worked as the music business instructor at the Atlanta Institute of Music, and, from 2012 to 2013, served as the Executive Director of the National Association of Record Industry Professionals (Atlanta Chapter). She is a longstanding member of the Recording Academy, Georgia Production Partnership, Atlanta Film Society, and the Georgia Bar Association. As an incoming legislator, she was elected to serve as the Secretary of the Gwinnett House Delegation.
In addition to spending time with her large, extended family, Rep. Moore enjoys hiking, attending concerts, playing piano, and SCUBA diving.
An Evening with Commissioner Ben Ku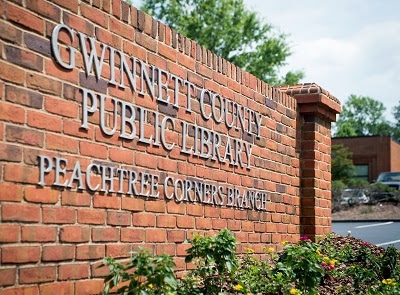 Presented by the Gwinnett County Public Library, Commissioner Ku will speak at the Peachtree Corners Branch, 5570 Spalding Drive, Peachtree Corners, GA 30092 on Thursday, May 23 at 7:30 p.m. This event is free and open to the public.
Commissioner Ben Ku was elected to the Gwinnett County Board of Commissioners in 2018 and serves District 2 which includes Peachtree Corners, Berkeley Lake, Norcross, Tucker, and Lilburn. Commissioner Ku is a Georgia native and the grandson of Chinese immigrants, who moved to Atlanta to help engineer the original MARTA heavy rail system.
Join Ben Ku to hear about his vision for Gwinnett County.
For more information, please visit www.gwinnettpl.org or call 770-978-5154.
County responds to concerns over proposed transit hub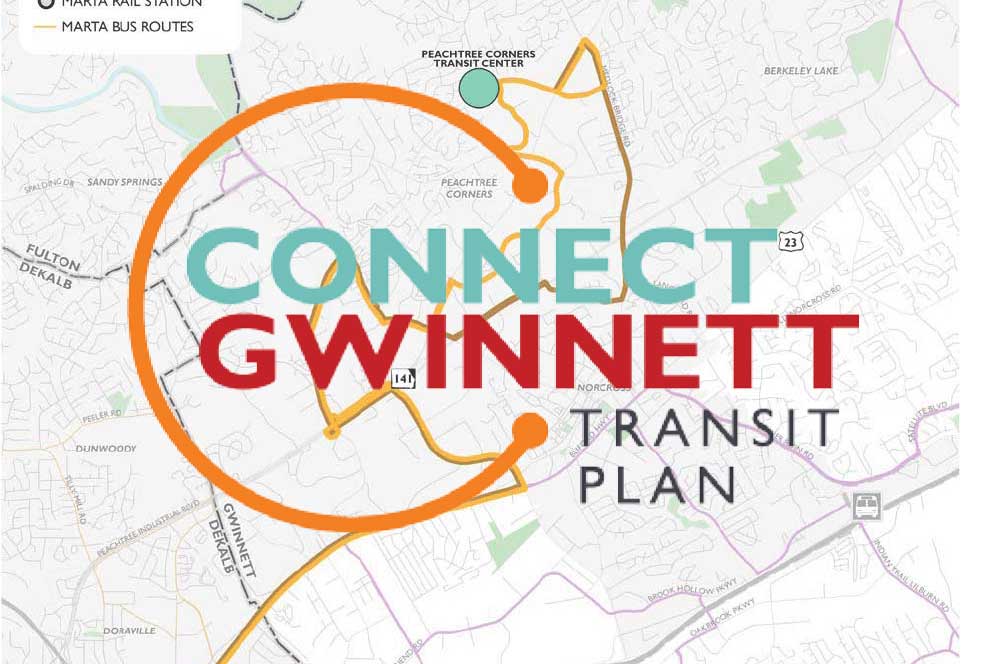 Route maps and potential facilities in the proposed Connect Gwinnett Transit Plan should be viewed as concepts rather than final designs, a county official said Friday in a letter addressing residents' concerns over a proposed transit hub in Peachtree Corners.
4.1.5.5 Peachtree Corners Transit Center (New)
A new transit hub is proposed to be in Peachtree Corners near the intersection of Peachtree Corners Circle and W Jones Bridge Road, with a specific location to be determined. The facility would include space for multiple bus bays, enhance waiting areas to enable transfers between multiple routes, and may also include additional stop amenities and customer service facilities.

Quote in question from the Connect Gwinnett Recommendation Report
"The designation on the map for a transit hub is intended to reflect a very general area. … As of now, no work has been done to determine the feasibility of any sites," Gwinnett County Commission Chairman Charlotte J. Nash said in the letter to Peachtree Corners Mayor Mike Mason.
"In essence, the planning process has identified the need for a transit hub in the Peachtree Corners area and that has been depicted on the map," Nash said.
Early voting is underway in the March 19 referendum on the plan, which includes a transit hub near the intersection of Peachtree Corners Circle and W. Jones Bridge Road, with a specific location to be determined.
The hub would include multiple bus bays and waiting areas and could also have "additional stop amenities" and customer service facilities, according to the transit plan's July 2018 Recommendations Report.
Residents became alarmed after a Feb. 25 Atlanta Journal-Constitution article mentioned the transit hub as one of the recommendations in the 167-page plan, which is available online.
Each route and facility in the plan will go through a "detailed vetting and evaluation process that likely will result in revisions as information is uncovered," Nash said in her letter.
She goes on to say that transit hubs tend to be located in "more commercial/industrialized areas," and said she agrees that the proposed location for a Peachtree Corners transit hub is not appropriate.
"It makes more sense for all sorts of reasons to place this facility as close to one of the major corridors as possible, and I anticipate that the search for a suitable site will focus in these corridors," Nash said.
Her letter also assures Mason that there will be "robust coordination" between the county and city on this matter.
Learn more
• See Nash's letter here:
peachtreecornersga.gov/Home/Components/News/News/1821/160?backlist=%2F.
• See the full Connect Gwinnett Transit Plan here:
gwinnettcounty.com/static/departments/transportation/pdf/Connect_Gwinnett_Recommendations_Report_102518.pdf.
Ways to vote in the upcoming Transit Contract Referendum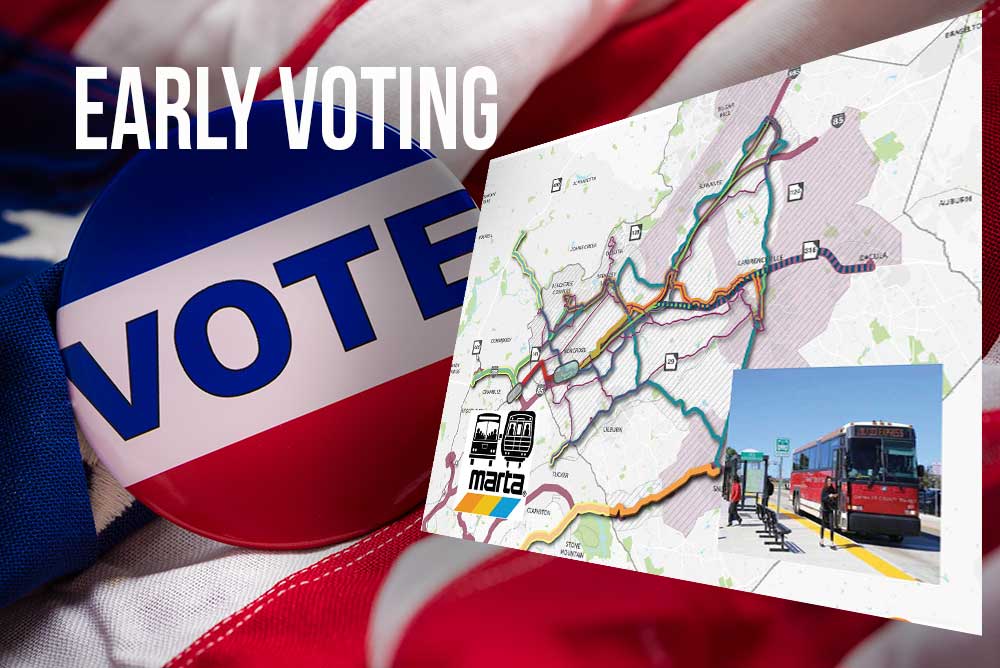 Voters will have multiple opportunities to cast their ballot on the transit contract referendum ahead of the March 19 Election Day.
In-person voting at the Main Elections Office on Grayson Highway runs from 7:00am to 7:00pm daily through March 15, seven days a week.
From March 4 to March 15, voters can visit one of seven satellite locations around the county from 7:00am to 7:00pm daily, seven days a week. On Election Day, March 19, voters must go to their assigned polling location. March 15 is the last day to have an absentee mailed to you.
Locations near Peachtree Corners for early voting includes:
Lucky Shoals Park Community Recreation Center, 4651 Britt Road, Norcross, GA 30093
• Shorty Howell Park Community Recreation Center , 2750 Pleasant Hill Road, Duluth, GA 30096
Visit www.gwinnettelections.com or more information about satellite locations and absentee voting. To learn your assigned polling location or to check the status of your voter registration, visit the Georgia Secretary of State's website at www.mvp.sos.ga.gov or call the Elections Office at 678.226.7210.
Cómo votar en el próximo referéndum sobre el contrato de transporte
Los votantes tendrán múltiples oportunidades para emitir su voto en el referéndum sobre el contrato de transporte el 19 de Marzo.
La votación en persona en la Oficina Principal de Elecciones en Grayson Highway funciona desde las 7:00am a 7:00pm, todos los días, hasta el 15 de Marzo, esto incluye los Sábados y los Domingos.
Desde el 4 de Marzo hasta el 15 de Marzo, los votantes pueden visitar uno de los siete lugares satélite alrededor del condado desde las 7:00am a 7:00pm todos los días, que también incluye los Sábados y los Domingos. El Día de las Elecciones, 19 de Marzo, los votantes deben ir a su lugar de votación asignado. El 15 de Marzo es el último día para que le envíen por correo una boleta de voto ausente.
Para obtener más información sobre las ubicaciones satélite y votación ausente, visite www.gwinnettelections.com. Para conocer su lugar de votación asignado o para verificar el estado de su inscripción electoral, visite el sitio web de la Secretaría de Estado de Georgia en www.mvp.sos.ga.gov o llame a la Oficina de Elecciones al 678.226.7210.