The Wave of Electronic Vehicles is Riding High in Peachtree Corners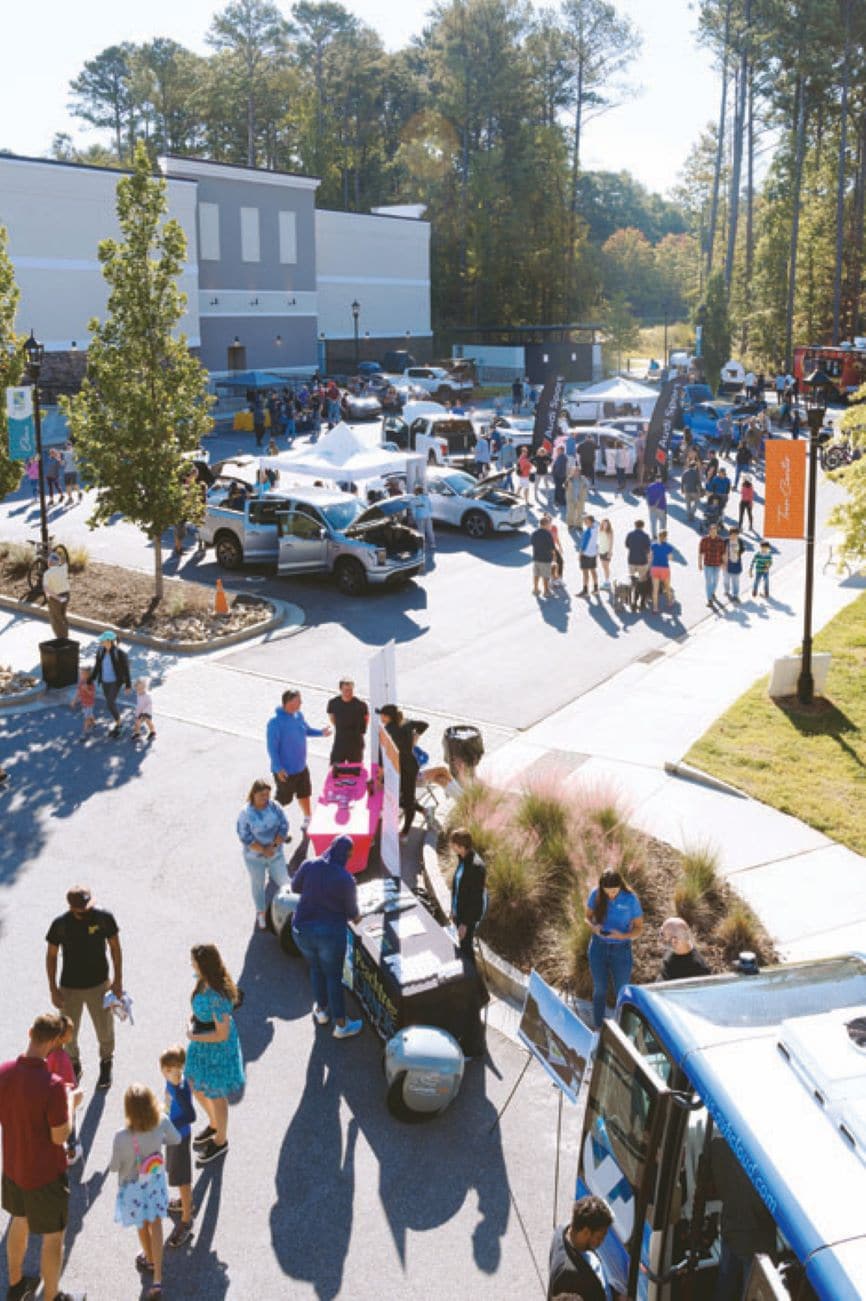 Photos by George Hunter.
Anyone who's still curious about what Peachtree Corners Curiosity Lab contributes to the area, can just take a look around. But you'll need a strong pair of binoculars because its reach goes well beyond this part of Gwinnett County.
A recent article in Forbes Magazine and recognition from the ARC Advisory Group, a leading technology research and advisory firm for industry, infrastructure and cities, further elevated Peachtree Corners reputation as one of the most productive and innovative smart cities in the country.
"My LinkedIn has been very popular the last week," said Peachtree Corners Assistant City Manager and Chief Technology Officer Brandon Branham. He said he was asked about how the city has become so successful in the technology field.
"We're here to share with other communities. It's a great time, I think, for local government just because there are lots of opportunities, and about to be a tremendous amount of funding for communities to take advantage of," he added.
Working together for sustainability
Part of Peachtree Corners' secret is embracing the private/public model. "These companies are coming around us to make investments in this technology because they're learning how to deploy and scale a lot of this. So, Curiosity Lab provides a great opportunity for them to come and work in a real living lab and interact with day-to-day traffic," Branham explained.
Branham commented on the recent legislation in California calling for an end to sales of internal combustion engines. Just days later, the state asked electric vehicle (EV) owners not to plug into the power grid to conserve energy.
"There needs to be a balance between the infrastructure and the vehicle applications for them to come together," he said. "From a perspective of the city and Curiosity Lab, our job is really to make sure the infrastructure is ready for the onboarding of all these electric vehicles and their OEMs." Original Equipment Manufacturers (OEMs) make systems or components that are used in another company's end product.
Peachtree Corners is currently working through some partnerships where Curiosity Lab will develop a 2.6-acre lot in Technology Park Atlanta. The focus will be on a sustainable electric infrastructure.
"Some of your level-two charging infrastructure can be ran off a sustainable source, such as solar, so we're working with companies to bring solar integration into the site to power as much of the of the level-two infrastructure as we can," Branham said. He added that there will be a handoff from big transit to other transportation devices, like e-bikes and e-scooters, "…so that when you get off the bus, you have those other last mile connection options."
But the EV lot won't be worth anything if it's not utilized. It's also going to be a gathering spot for Atlanta Tech Park employees in the 500-acre office park.
"We'll have some outdoor seating, some green space and public Wi Fi," Branham said. "Employees and residents can come out and just hang out and maybe work out of that area and have a place to gather centrally within Tech Park."
In addition, the area will test some new innovative projects, like hydrogen vehicles and perhaps a hybrid of hydrogen and EV.
Right now, one of the biggest challenges with EV is battery storage. "We're actually talking to a company that takes …these electric vehicles as they start to age," Branham. "What do you do with the batteries? How are we going to sustainably recycle electric vehicle batteries?"
One option that's being explored is taking old batteries from these cars that are starting to come into the end of their life and using them as battery storage devices for solar.
Electrify PTC Clean energy advocates, car aficionados and those who just wanted a look at some of the latest technology gathered on a cool September Saturday morning at Peachtree Corners' first EV car show, Electrify PTC. In alignment with National Drive Electric Week, the event highlighted the fact that Peachtree Corners is a Certified Green City and has the largest EV charging station in metro Atlanta.
Georgia Public Service (PSC) Commissioner Tim Echols shared remarks about the future of EV. The PSC's primary job is energy regulation. In office since 2011, Echols has become a champion of clean energy. When he took office, Georgia was 34th in solar power. Now, the state is ranked ninth in the nation for installed solar and is poised to be fourth in installed solar by 2024.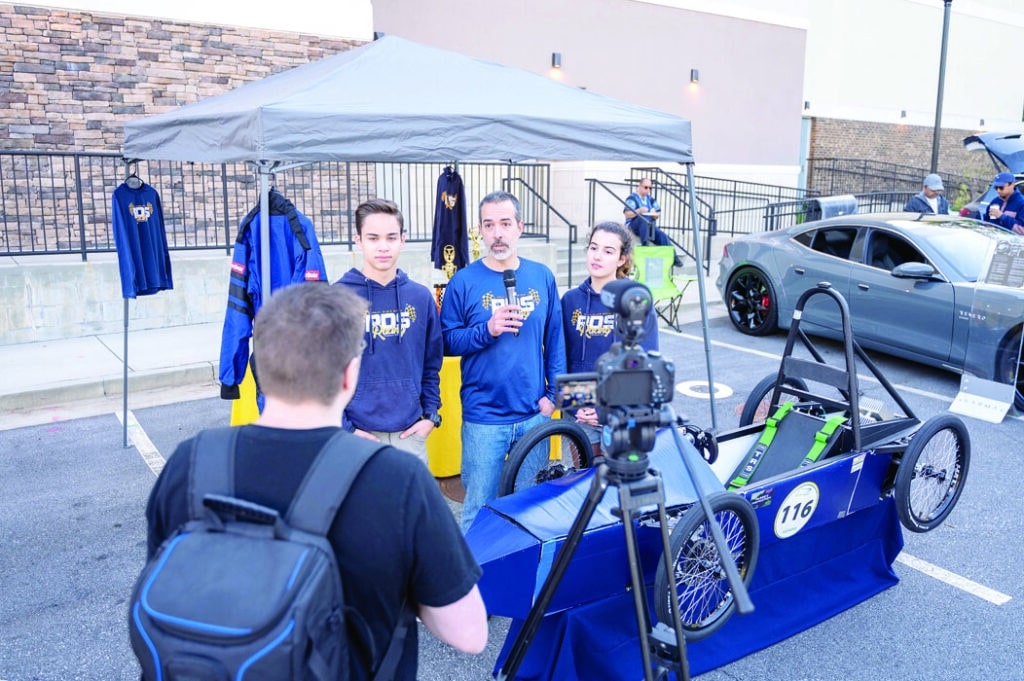 Echols has created what he calls "The Clean Energy Road Show," and he has presented it throughout the state every summer for the last 11 years. The event educates commuters, businesses and municipal governments about alternative fuels for transportation and residential use.
"We've got great economic development and tech innovation coming up, and none more important than here at Peachtree Corners," said Echols.
"Do you realize that when this Nissan Leaf came out in 2012," he said, pointing to his personal vehicle, "that none of these other cars existed? While the DeLorean did, it wasn't running on electric. Nissan really paved the way, as well as Tesla, for EVs. Now we've got well over 60 models with a plug, so things have come a long way."
Many of the attendees admitted freely that they couldn't afford the six-figure sticker price of many of the vehicles on display. Echols assured them that their time was coming.
"That's why we have to have a secondary market for these used cars because not everybody can afford a $40,000 or $60,000 or $80,000 or $200,000 car. If we're going to see this clean energy transition go, we're going to have to have a robust used car market with cars like this that…you can buy for $7,000 or $8,000."
A group of salespeople from the Jim Ellis Automotive Group reported that EVs are starting to show up on the used car lot. That was reassuring to several families. "Maybe I'll be able to afford one of those before he's in college," said a father as he ruffled his young son's blond locks.
"GM just announced the Chevy Equinox is probably the lowest starting price for an electric vehicle outside of the Nissan Leaf," Branham said. "So, it's going to start to appeal to the broader consumer. I think that gives more opportunities to educate the public about the benefits."
Dealerships and partners at the event included Clean Cities Georgia, Ford, Mercedes, Jim Ellis, Karma Atlanta, Swincar, T-Mobile, Georgia Power, Siemens and QwikCharge. Vehicles on display included Ford Lightning, Rivian R1T, Revero, Audi E-tron, GMC Hummer, Porsche Taycan and Jaguar I-Pace.
Down the road
As the technology improves, EV offerings will be more varied. There was a firm at the show that builds an off-road electric vehicle. Since it doesn't burn fossil fuel, it can be used inside national parks. A company near Chattanooga, Tn. offers guided tours with the vehicles.
Branham envisions a near future where motorcycles, boats and water vessels, like jet skis, will run on electricity.
In addition to personal vehicles, Curiosity Lab is looking to extend public transportation. The autonomous shuttle that loops Technology Park will expand its range.
Branham pointed out that Tech Park's hotels are just down the road from Peachtree Corners' downtown. "We will start to provide options for those visitors to take the shuttles up Peachtree Parkway to our downtown to connect them there, then they don't have to sit in their car," he said.
Right now, the goal is to have people make different choices as they start to think through their transportation needs, Branham explained. "But you've got to take those first steps to get out there and really try it, use it, see what works, what doesn't work, and then pivot from there," he said. "Hopefully, in the middle of next year, it will be up and running."
Beep and Moovit Team Up to Provide AV Rides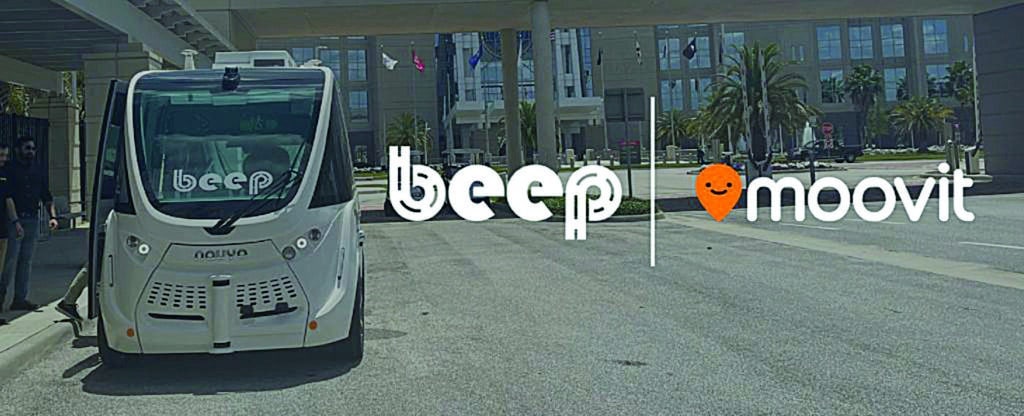 Peachtree Corners residents can hail autonomous vehicle (AV) and electric vehicle (EV) shuttles on the path along Technology Park via the Moovit app. In May, a partnership between Moovit and Beep was announced. Beep is the mobility-as-a-service (MaaS) entity that operates the largest autonomous shuttle deployments in the country, and also operates Peachtree Corners' shuttles. The Moovit app features ride hailing and seat reservations, real-time tracking of shuttles and convenient travel options. Learn more at moovit.com and ridebeep.com.

Waramaug Hospitality Acquires Atlanta Marriott Peachtree Corners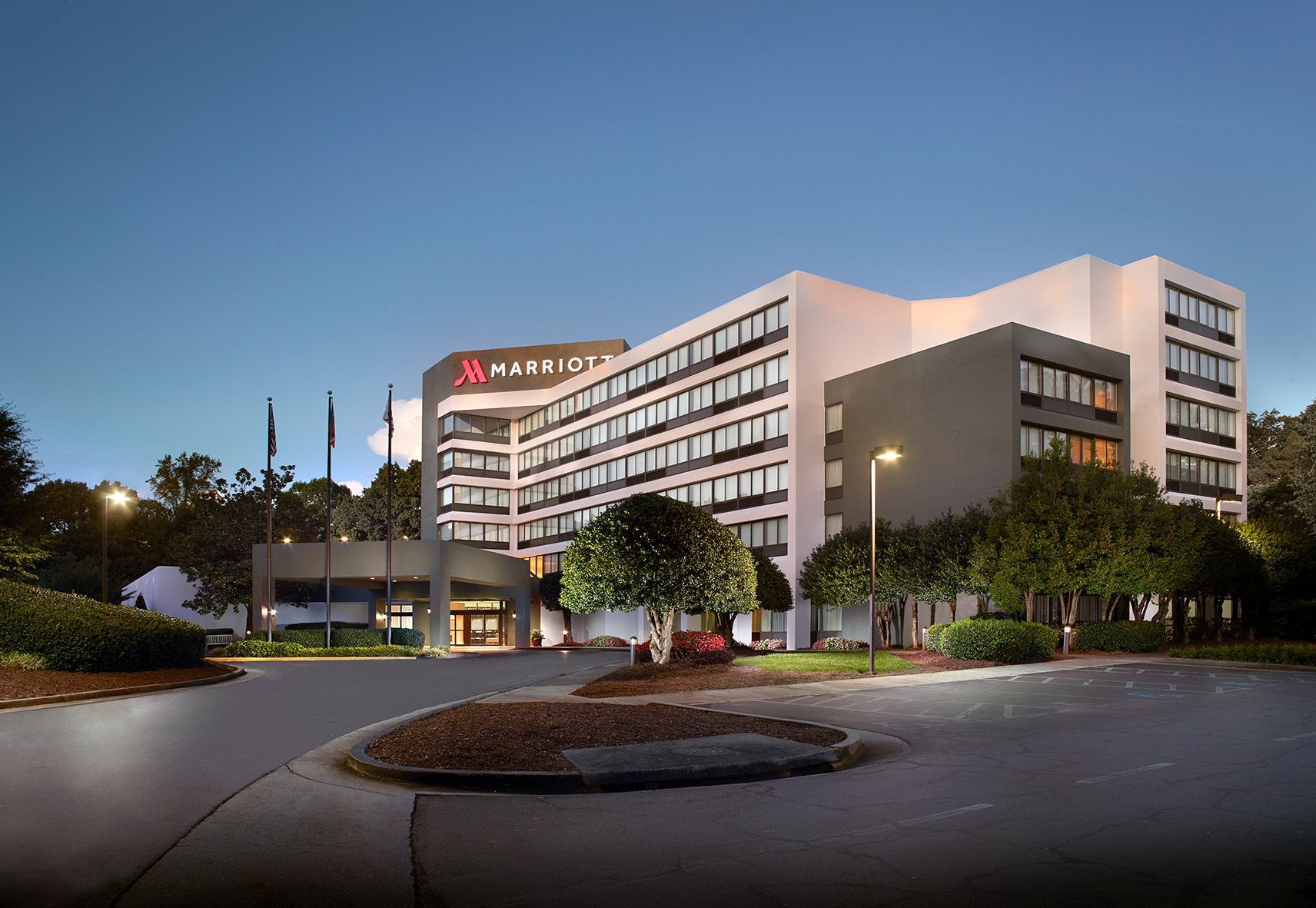 Waramaug Hospitality, a privately held investment firm focused on select-service and full-service hotels, announced on Aug. 23, it acquired the Atlanta Marriott Peachtree Corners. 
The 222-room Atlanta Marriott Peachtree Corners features a fitness center, indoor pool and outdoor fire pit seating area. All meeting and event spaces are equipped for various events, from industry conferences to happy hours and lifecycle events.
"As the second full-service Marriott Hotel and 16th Marriott-branded property in our portfolio, said Ferit Ferhangil, Principal of Waramaug Hospitality, "we see tremendous revenue growth opportunities for this asset in a thriving market."
The property, which will now be managed by Aimbridge Hospitality, is located within Technology Park, a regional technology and innovation hub. The 500-acre campus is a destination for technology innovation in the Southeast and home to over 2,300 businesses ranging from tech startups to Fortune 500 companies.

AJC names Cornerstone Christian Academy the Top Small Workplace in Metro Atlanta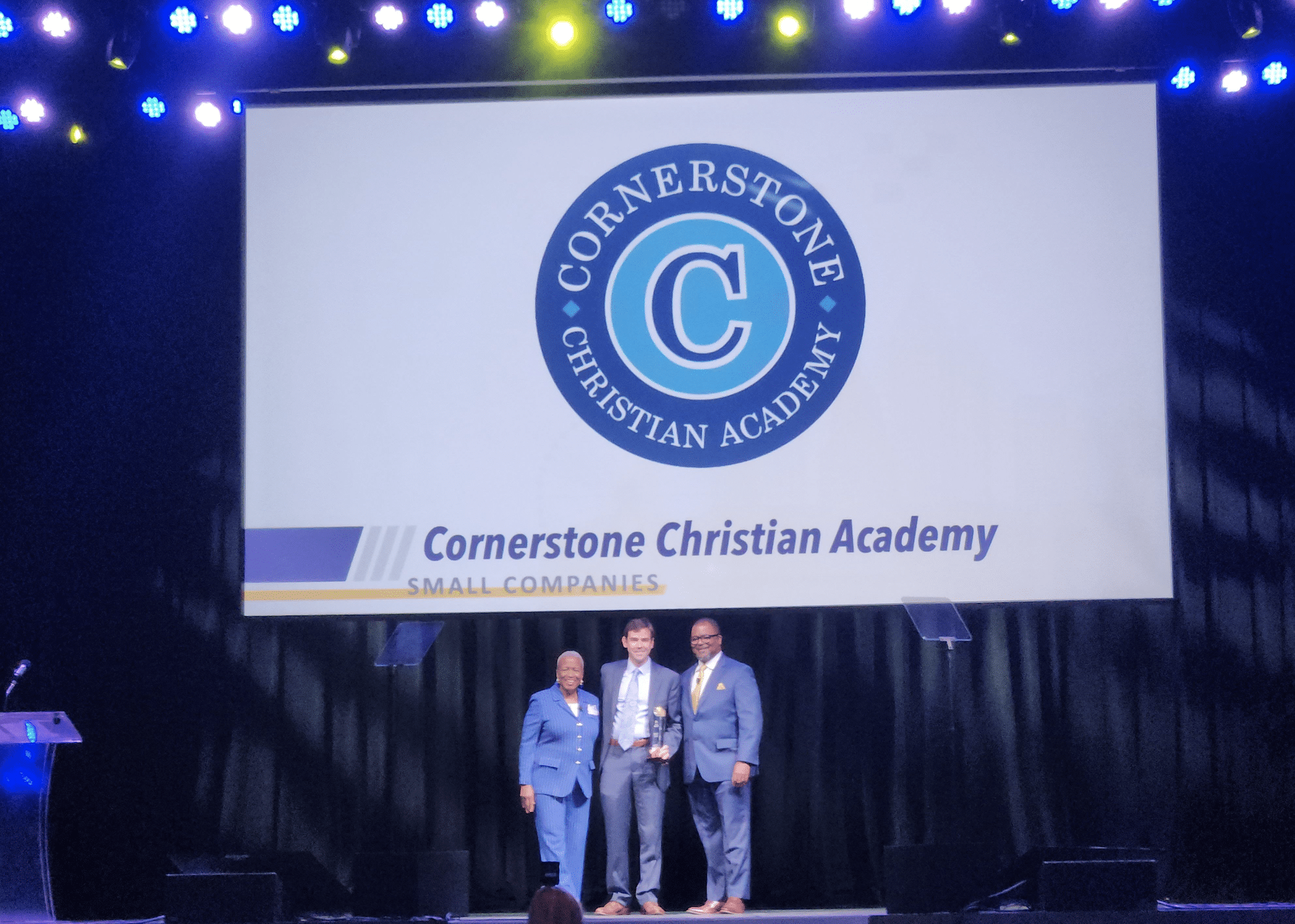 For the 13th consecutive year, The Atlanta Journal-Constitution and Energage have released their list of Top Workplaces in metro Atlanta. On August 10, Cornerstone Christian Academy, based in Peachtree Corners, was named the #1 Small Workplace in the metro area for 2023.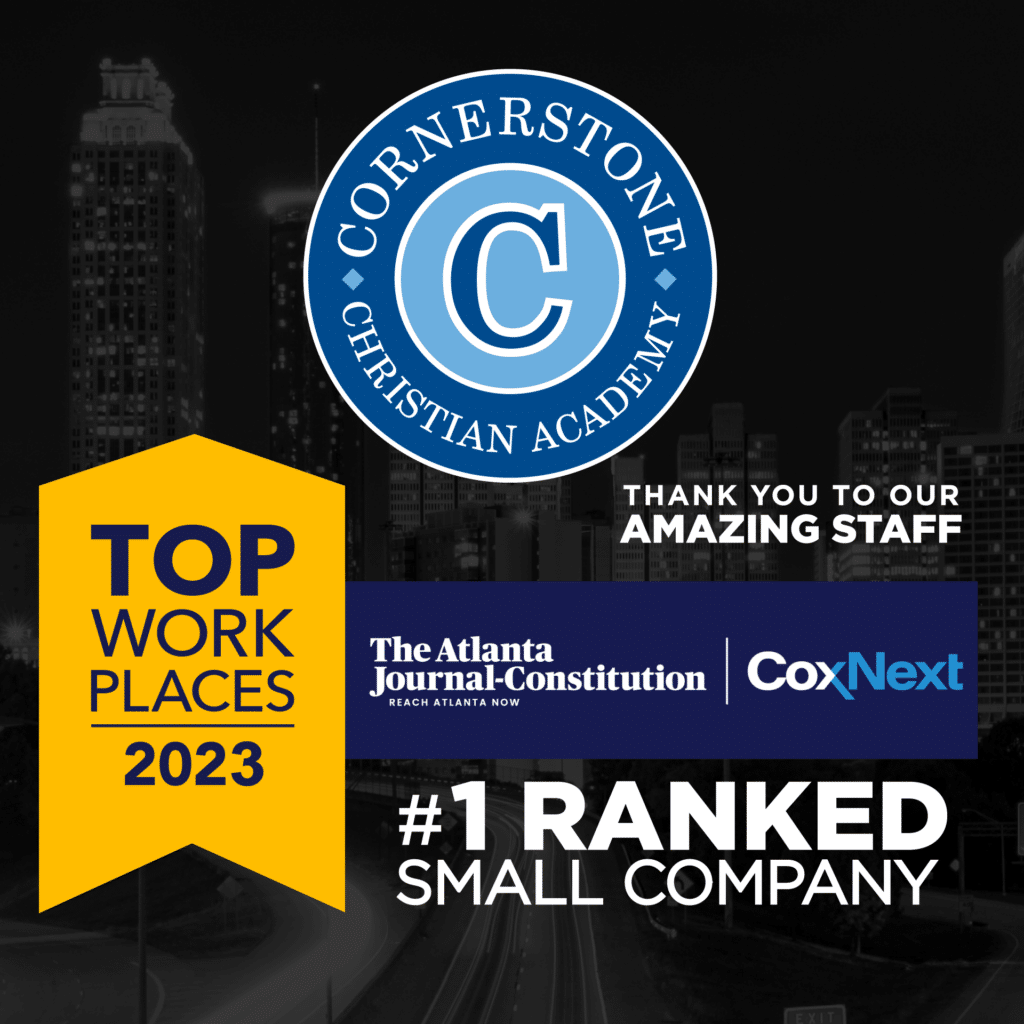 The honorees were determined based on employee feedback gathered from a third-party, anonymous survey. The survey measured multiple factors critical to the success of any organization. Of nearly 8,000 companies that applied, only 332 businesses were chosen to participate.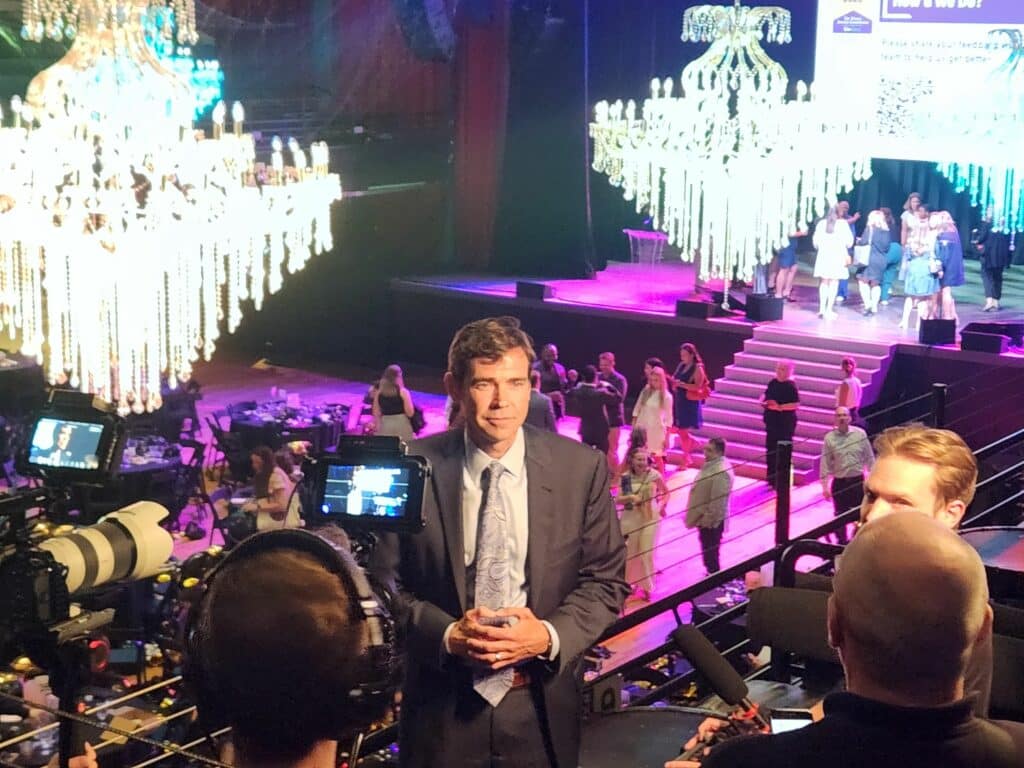 Colin Creel, Headmaster at Cornerstone, stated, "We were extremely humbled to hear that we were not only named on the list, but ranked first among small companies. I am very thankful our staff has received this public validation of the amazing work that occurs here at Cornerstone. Our staff deserves all of the accolades they are receiving; Cornerstone is a very special place because of them."

Premier Racquet Sports: A Holistic Approach to Tennis Pro Shops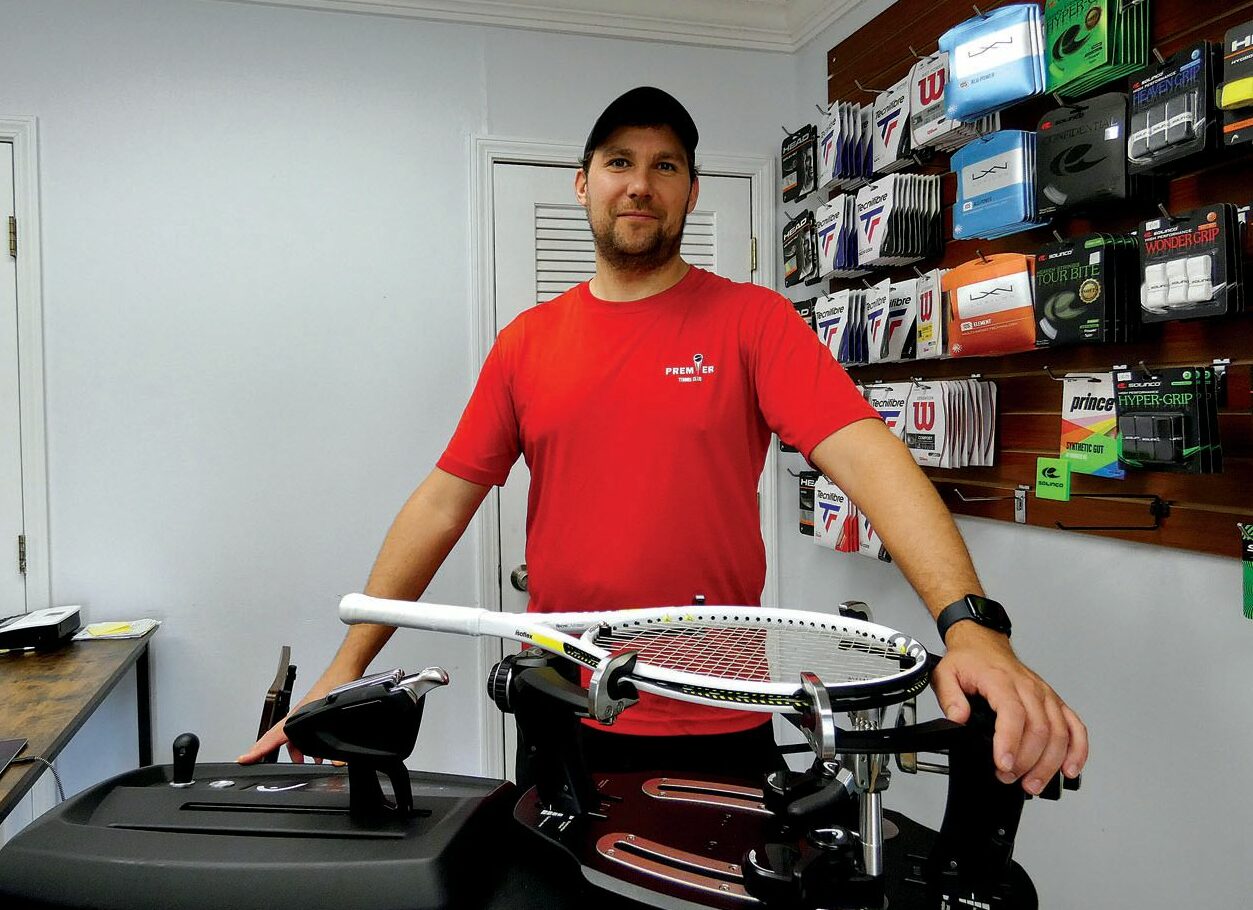 Calling all racquet sport lovers! Premier Racquet Sports, a tennis pro shop, recently opened on March 15 in Peachtree Corners off Spalding Drive.
This is Premier Racquet Sports' second location in Atlanta, the other being in Dunwoody. However, this pro shop brings something unique and special to the competition wherever it lands.
Founded by Corey Matney, with partners Claude Badowski and Bobby McMahan, Premier Racquet Sports is a shop with an emphasis on a community-driven approach to the racquet sports industry.
In an industry where it can be overwhelming and daunting to adventure into the realm of pro shops, Premier Racquet Sports aims to break the status quo by making tennis available to all.
"Our goal is anyone who comes in, whether you've never played tennis before, never played pickleball before, or you are basically a professional, you will have time spent with you explaining what's the best kind of choice for you," said Badowski. "Learning about customers as a person and trying to really build a relationship makes it so that we can help people long term rather than just transact with them."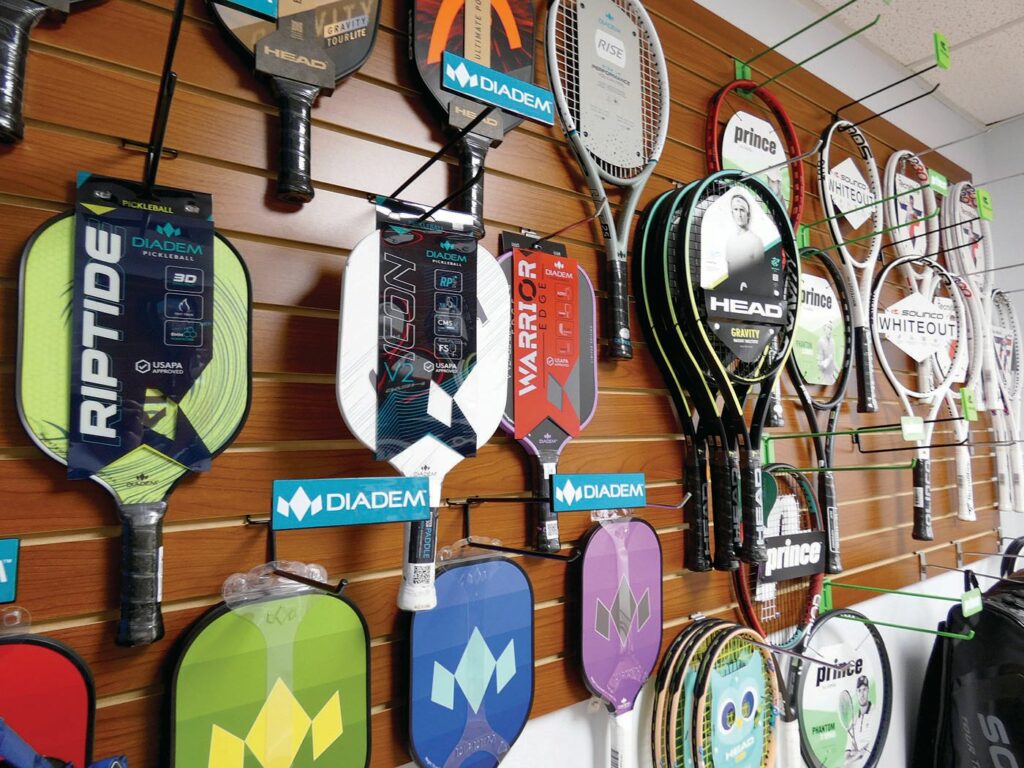 More than a business
Matney began stringing rackets in high school to be able to afford tennis lessons and eventually went into college playing Division I tennis. Not only did a passion for the sport drive him to create Premier Racquet Sports, Matney also found an intense need for a friendly business based in the racquet industry.
"…to be able to offer the community high-level technical services and be able to have everyone feel like they're getting the same treatment that a professional tennis player would when they come into a tennis shop, and meet their needs," said Matney.
As a long-term tennis player, Matney found that service at pro shops could feel impersonal, furthering his drive to create a pro shop that was more than just a shop.
One way the shop has accomplished this objective is through occasions such as demo days, events where the shop will demo rackets and bags while also running free tennis drills.
"It's a great chance for people to talk to us about what's the best racket for them and what's the best string for them to hit with it," said Badowski. "They get to feel the difference, because there's hundreds of rackets out there and thousands of string and string combinations. It's very rare for people to be able to try them all and get instant feedback …they can feel the difference."
Additionally, Premier Racquet Sports will have their next demo day on July 14. This event will feature all Wilson products as well as Wilson's new racket called the Shift.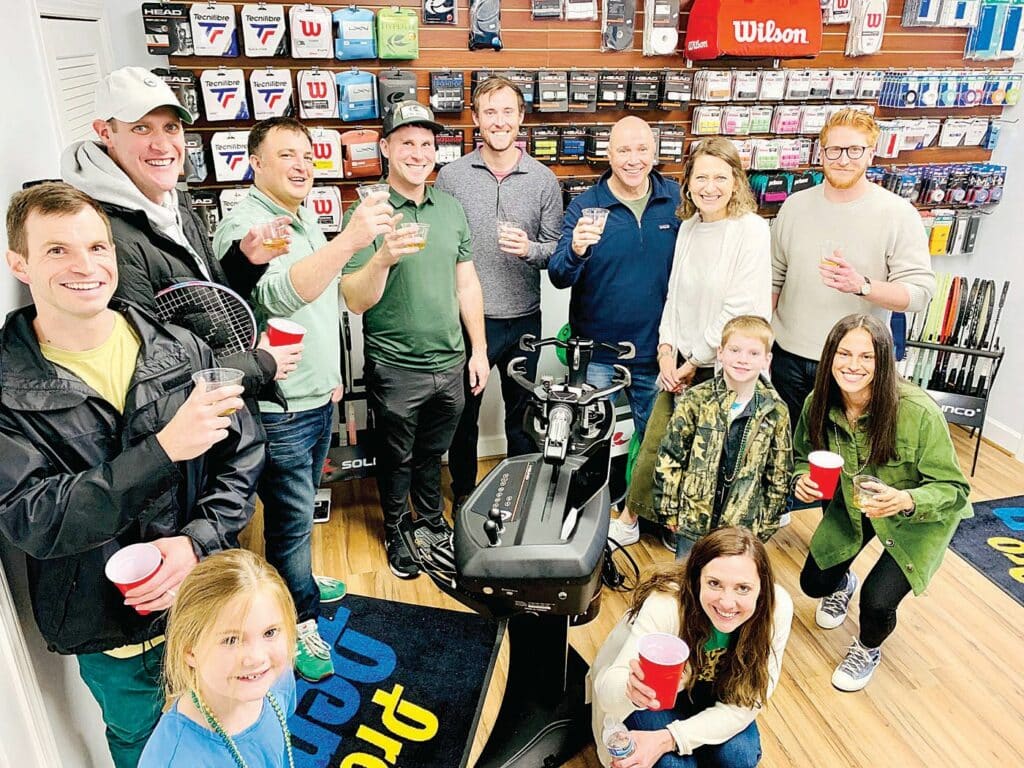 In-store action
However, this level of care and concern extends beyond their demo days. By walking into Premier Racquet Sports, customers are making their choice of supporting a business that keeps their clients in high regards.
"All of us enjoy being able to help players explore and go down the pathway of finding the right equipment for them," said Matney. "This is mostly stringing, but also rackets, shoes or any portion of the necessary tennis items; just being able to have that connection to the player and have them know that we are a sounding base for their questions and will help them find what they need."
Premier Racquet Sports prides itself on its collection of all things tennis. Within their store, they carry all major brands, rackets, shoes, grips and over 250 varieties of string. They claim to be able to have anything a player may desire shipped to their store within two days, too.
Welcome Premier Racquet Sports to the Peachtree Corners community by stopping by, whether you are a tennis expert or a novice.
Learn more about Premier Racquet Sports here.