Mixed-Use Development on the Agenda for Spalding Drive and Peachtree Parkway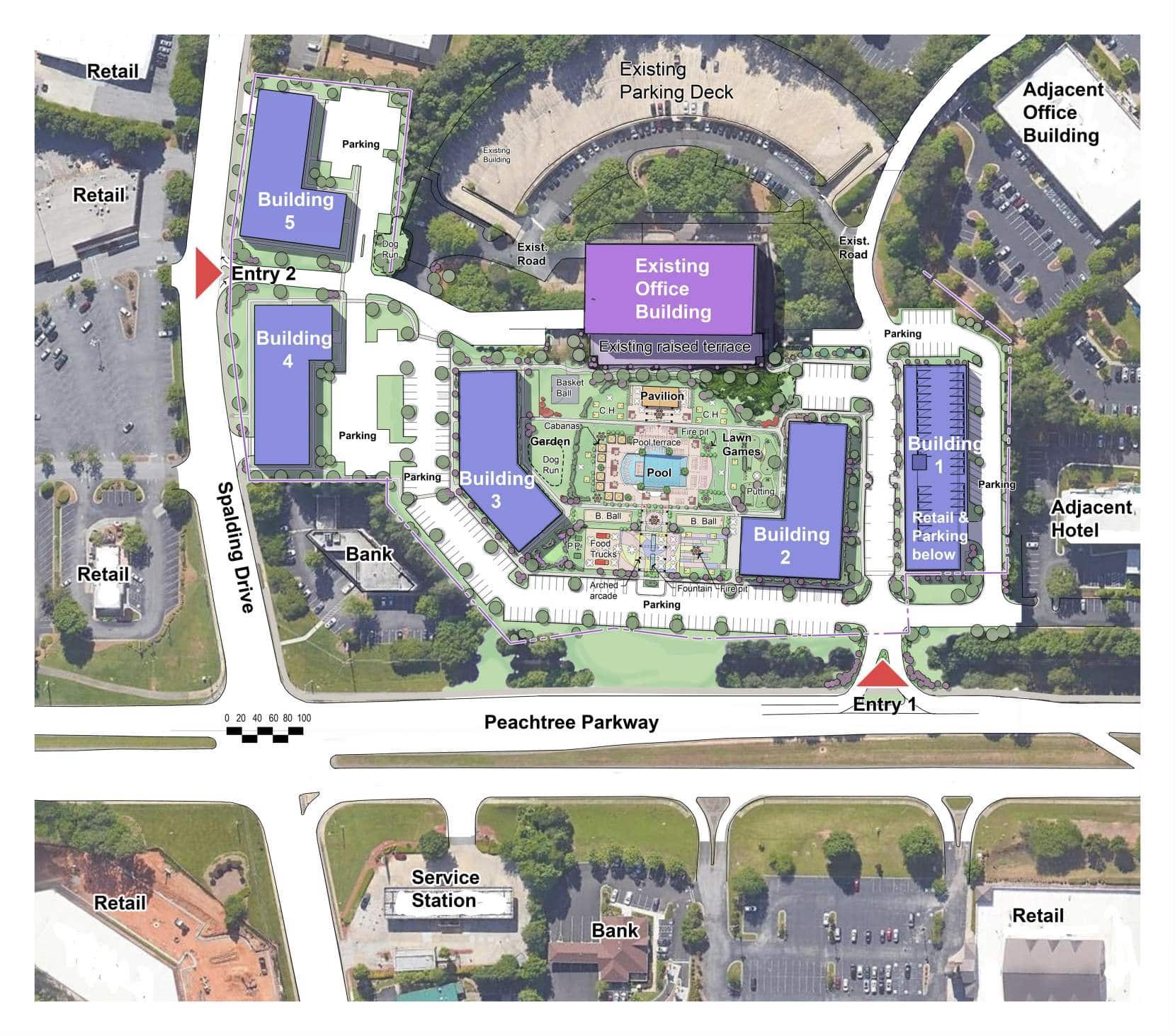 The Summit at Peachtree Parkway is part of proposed rezoning for live, work, play campus.
The request to rezone 15.69 acres of land currently zoned light industrial to mixed-use development in the city's central business district is on the agenda for this month's Peachtree Corners Planning Commission meeting.
The applicant Brand Properties, a metro Atlanta real estate investment company, is seeking to build a campus at 5550 Peachtree Parkway and 5458 Spalding Drive consisting of an existing six-story office building and five new multifamily buildings, one of which will contain ground-floor retail space. These new buildings range in height from three to five stories and will have a total of 251 units. The applicant is also proposing an extension to the public trail system.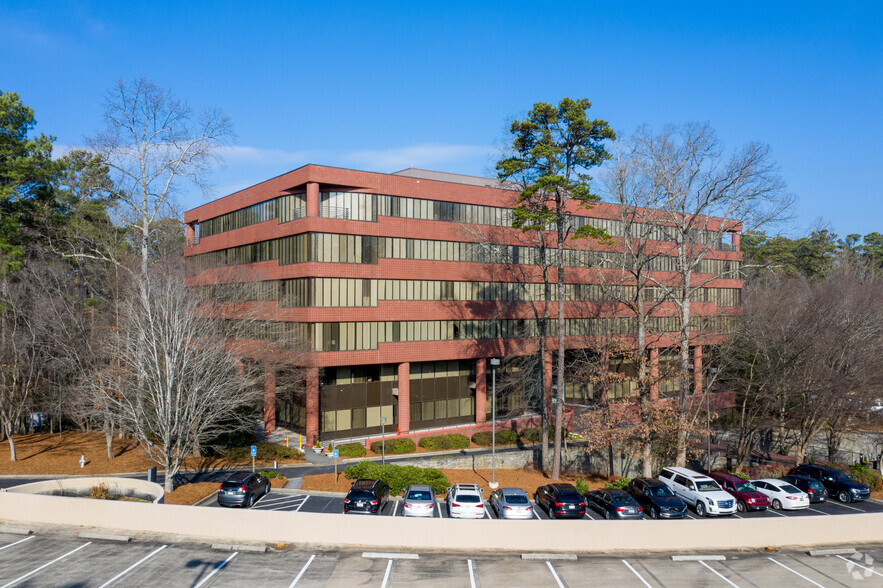 The property is currently The Summit at Peachtree Parkway, a large office building and associated parking with a retention pond fronting Peachtree Parkway just south of Spalding Drive. The site is heavily wooded and the office building and pond are partially obscured from view along the street.
The Spalding Drive properties are a vacant parcel adjacent to the Bank of America and a developed parcel containing the Rio Imports Auto Center auto repair business.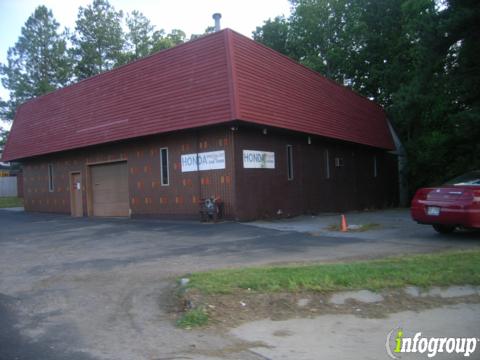 The properties which are part of this application form the southeast corner of Peachtree Parkway and Spalding Drive, with the exception of the Bank of America property which is not part of this application.
The Summit has approximately 179,000 square feet of office space with access to 11-plus miles of hiking trails. On-site amenities include basketball and volleyball courts, direct access to the Tech Park Trail, a fitness center complete with locker and shower facilities, and a conference facility. There are 100 surface parking spaces and 520 covered parking spaces.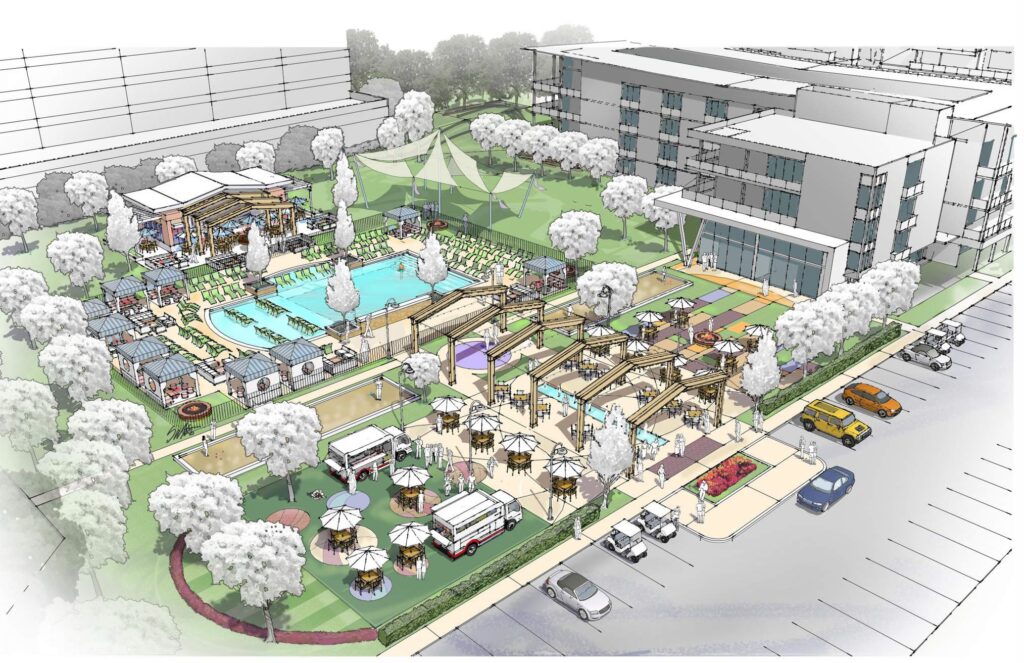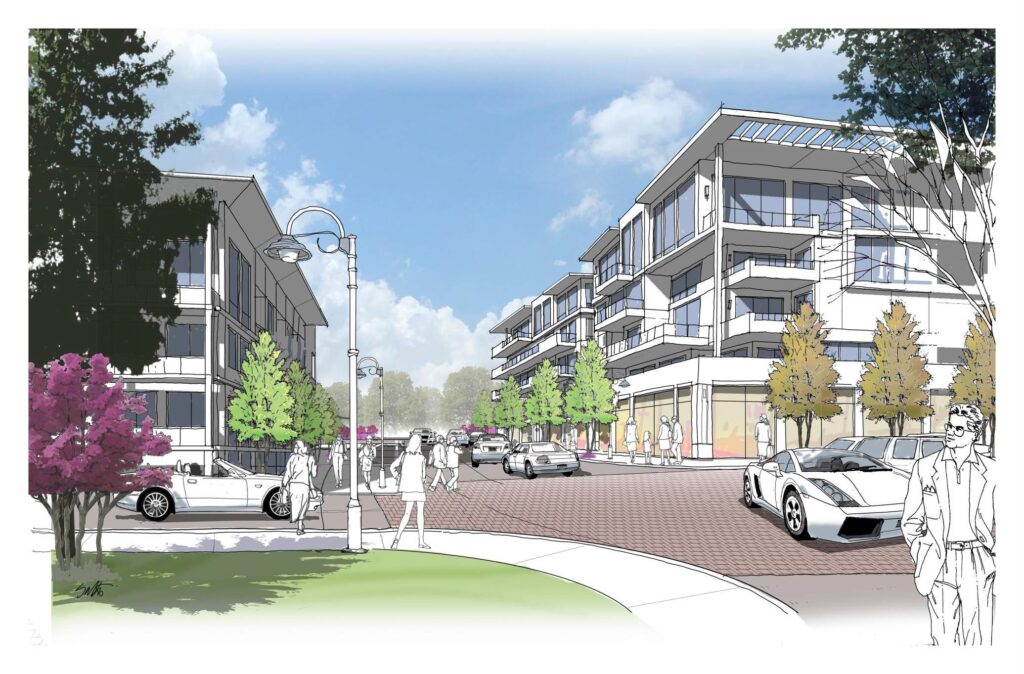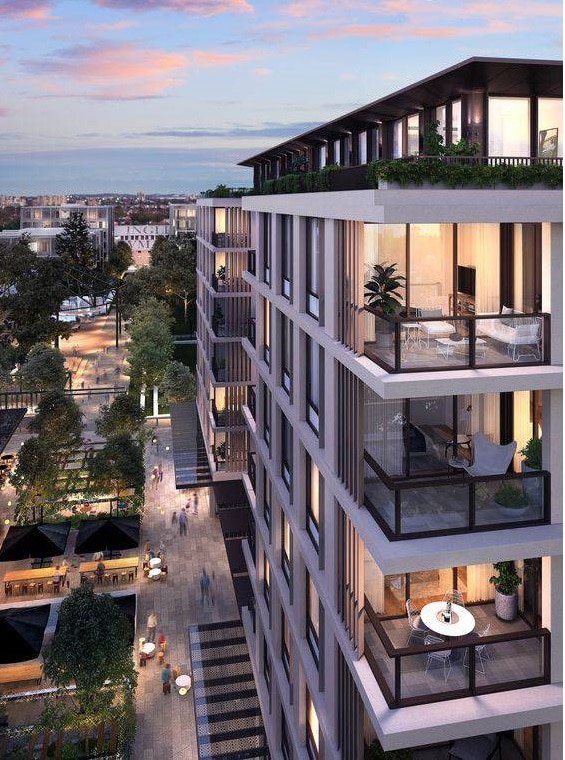 Fitting into the neighborhood
The Peachtree Parkway property is across the street from Christ the King Lutheran Church, Wells Fargo Bank and a Shell gas station, while the Spalding Drive properties are across the street from the Peachtree Parkway Plaza shopping center anchored by Goodwill. A small arm of the office property extends south to Scientific Drive near its intersection with Technology Parkway.
This corridor is the route of the proposed trail connection to Technology Park. The site plan submitted by the applicant indicates three points of entry into the development: the existing right-in/right-out driveway along Peachtree Parkway, the existing full access driveway along Scientific Drive and a new full-access driveway along Spalding Drive opposite the main Spalding Drive entrance to Peachtree Parkway Plaza.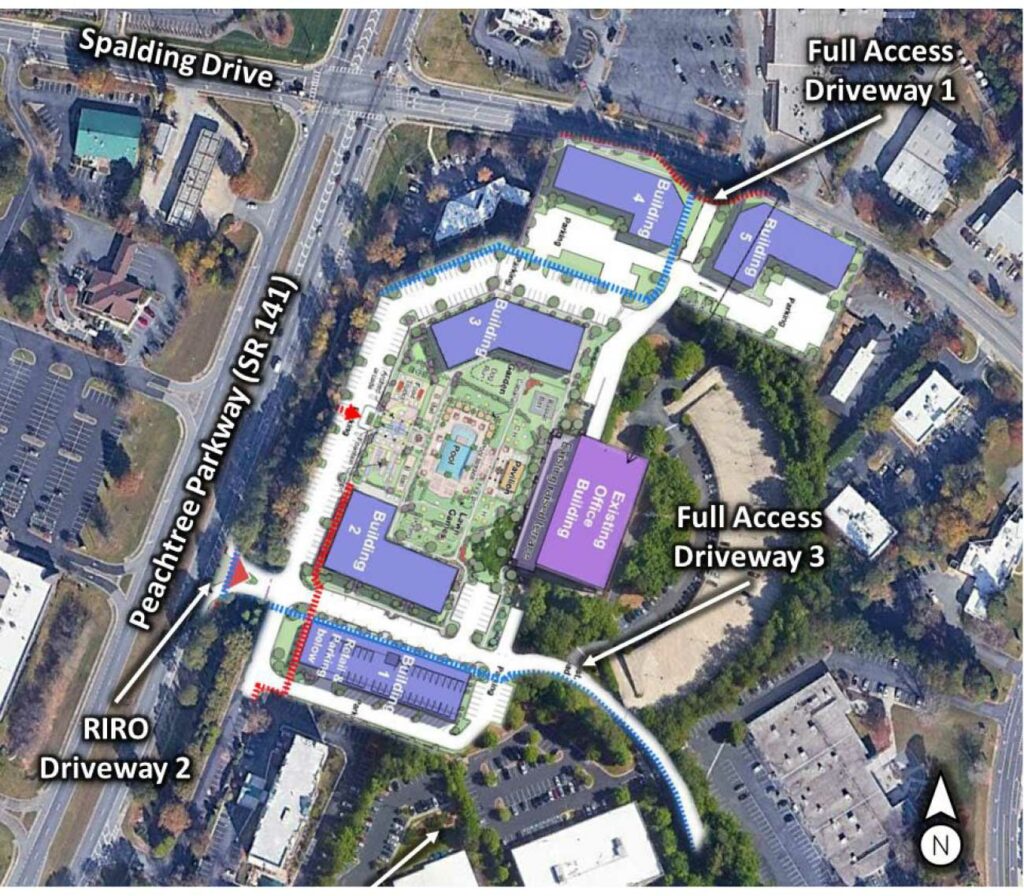 Most properties surrounding the subject property are zoned light industry with the exception of the Bank of America property which is zoned neighborhood business. Across Spalding Drive, the shopping center is zoned general business as are the Wells Fargo and Christ the King properties across Peachtree Parkway.
The proposed residential development would be located on 9.47 acres or 60% of the site area. The remaining 40% of the site would be comprised of non-residential (office) use.
The site plan shows 251 total housing units (one and two-bedroom units only) on the 15.69-acre site. This equates to a density of 16 units per acre which is well below the maximum of 32 permitted in the proposed zoning regulation.
The Peachtree Parkway properties were not the subject of past rezoning cases. However, the vacant Spalding property was the subject of a county rezoning request in 2006. This request to rezone to allow for a restaurant was denied.
The Community Development Department analysis concluded that since the property lies in the Central Business District Character Area, it is desirable for mixed-use development and higher density than may be appropriate elsewhere in the city. Additionally, the Tech Park area encourages redevelopment to take the form of mixed-use projects, including housing and commercial space, which can benefit employees and employers.
The rendering submitted with the rezoning request shows modern designs with flat rooflines and rectilinear massing which appear to blend with the contemporary aesthetic of Technology Park and the existing office building, according to the staff report.
The site plan also includes numerous amenities that would benefit residents, office workers and hotel guests. These include a dog park, garden, sports courts, pavilion, walking paths, swimming pool, fire pit, food truck court and connectivity to the city's trail system.
Staff recommendations
After a review of the proposal and other relevant information, city staff recommended that the application be approved with conditions. Here are a some:
The maximum number of units is dependent on-site conditions, compliance with zoning conditions, and fully engineered plans that meet regulations and consist solely of one- and two-bedroom units.
The property shall retain the existing office building in its existing configuration, square footage and use.
Retail and restaurant use shall be located on the ground floor of Buildings No. 1 and No. 2 along the entire building frontage facing Peachtree Parkway.
The proposed full-access driveway at Spalding Drive shall be evaluated by city traffic engineering staff to determine if signalization, construction of a roundabout, reduction to right-in/right-out, deceleration lanes or other traffic reconfiguration measures are warranted. Any such required changes shall be funded by the developer.
The developer shall construct the trail connection from the center of the site to Scientific Drive. Such trail connection shall be in the form of a five-foot wide sidewalk constructed to have as little impact as possible on existing, mature, road front landscaping.
The development shall incorporate and preserve the 44-inch white oak tree located on the southwest corner of the property.
The development shall include no more than the three access points as shown on the submitted site plan.
The developer shall provide sidewalk connectivity between all buildings and dedicated trails within the site and provide pedestrian sidewalk connections from the development to the Bank of America site and onto the public sidewalk network along Spalding Drive and Peachtree Parkway. In addition, a driveway connection shall be provided to the adjacent hotel site.
Amenities will include a pool, pavilion, bocci ball courts, dog run, fire pit and food truck court.
The master plan campus shall be equipped with vehicle license plate recognition camera technology at all access points.
The development shall incorporate public art in the form of a large wall mural on the side of the multifamily/retail building visible from Peachtree Parkway or in the form of a sculpture located in the amenity plaza fronting Peachtree Parkway.
Multifamily parking shall be designed to be 'electrical vehicle ready' by providing wiring and outlets in convenient garage locations to accommodate residential electric vehicle charging.
The Peachtree Corners Planning Commission is set to meet at 7 p.m. Tuesday, April 19 at City Hall. To view a live stream of the meeting, click here.
Insight Sourcing Group Commits to 100% Renewable Energy by 2030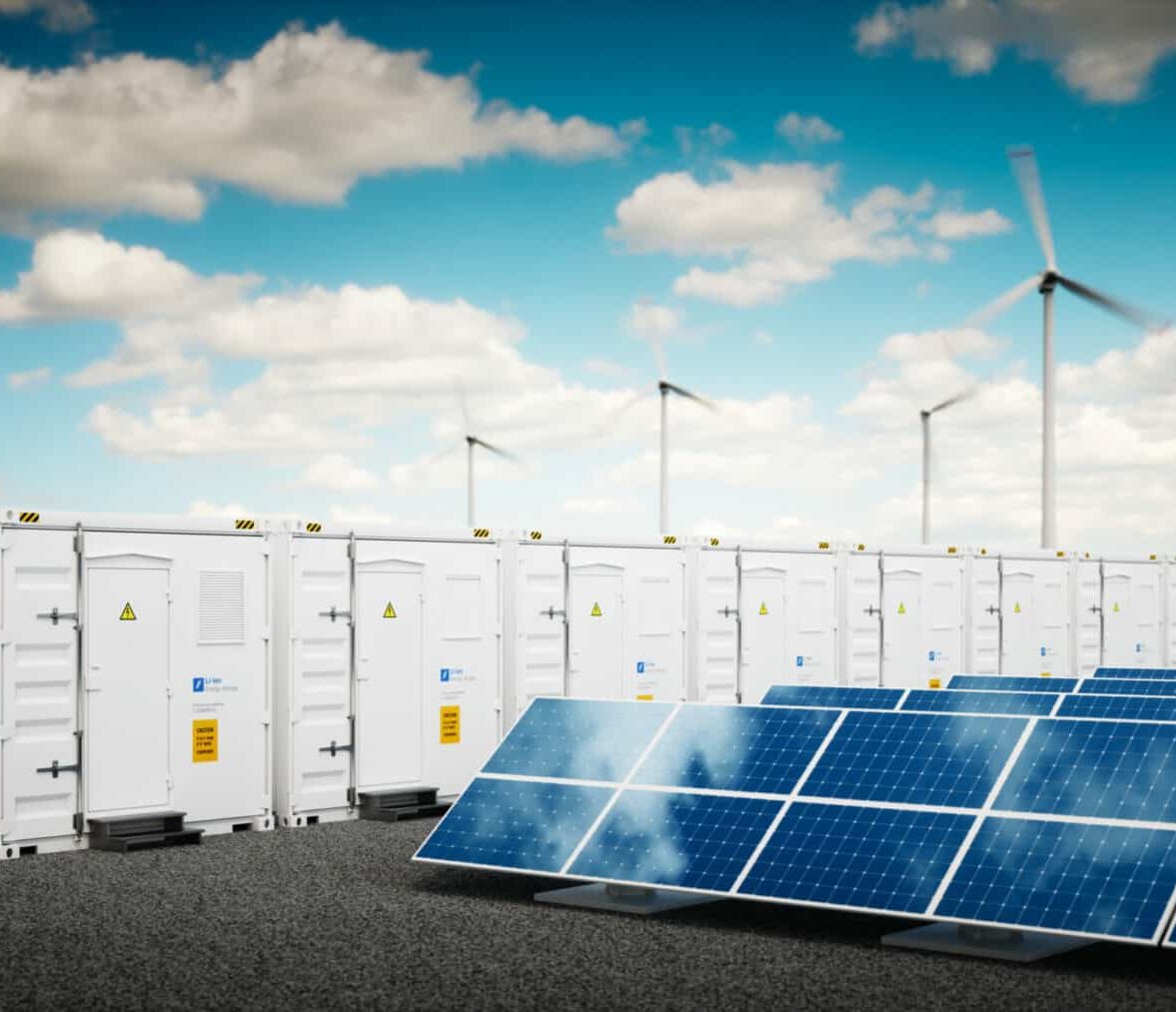 Sustainability initiative aligns with the same environmental standards it helps clients attain.
Insight Sourcing Group (ISG), a consulting firm located in Peachtree Corners, is focused on strategic sourcing and procurement-related services. Following a comprehensive analysis by Insight Energy, a subsidiary of Insight Sourcing Group that recently expanded, ISG set a 100% renewable energy goal for 2030.
The goal includes a commitment to sourcing its electricity from renewable sources at its Peachtree Corners headquarters beginning in 2022.
"Not only do we apply the same standards to ourselves that we help our clients achieve, but we also sought to pull back the curtain on this process and bring some transparency to this increasingly important service offering," said Brent Eiland, President of Insight Sourcing Group. "I commend the work of ISG's Internal Sustainability Committee led by Brandon Owens, Vice President of Sustainability at Insight Energy."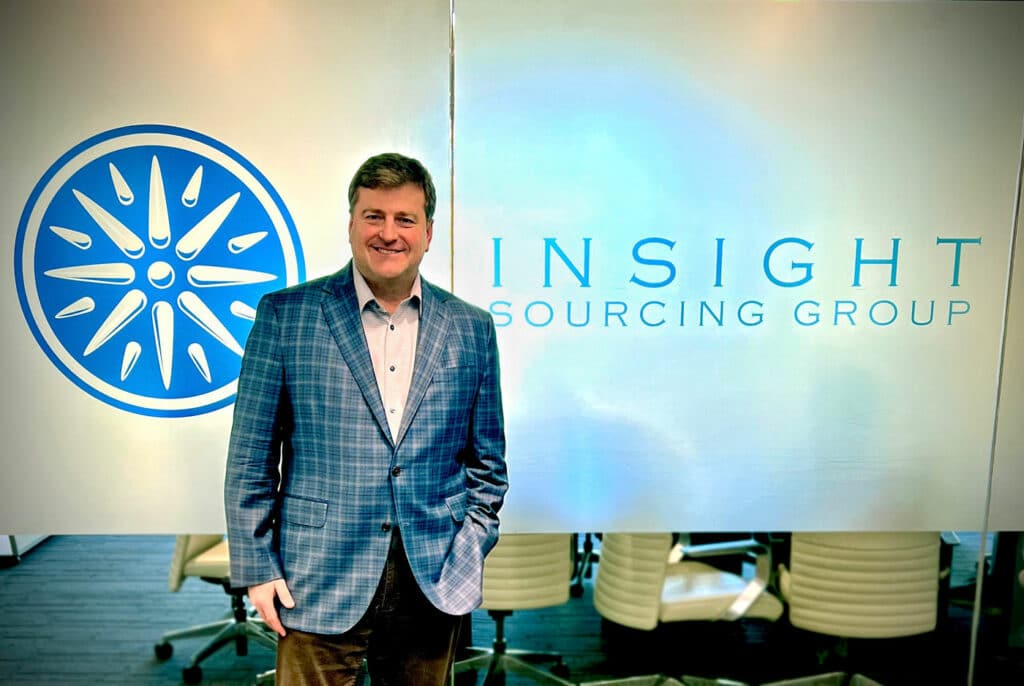 As part of the initiative, ISG conducted a measurement of its Scope 1, Scope 2 and selected Scope 3 emissions categories. Based on the findings, ISG developed a roadmap to achieve 100% renewable energy and established a plan to measure and reduce Scope 3 emissions, which are indirect emissions like business travel.
The Sustainability Committee also identified opportunities to reduce emissions from employee commuting via hybrid work models and a carpooling incentive program. Waste identification and reduction posed another opportunity to improve sustainability; internal audits revealed an opportunity to reduce the use of single-use paper cups.
Furthermore, ISG's procurement of Renewable Energy Credits (RECs) will certify the generation and consumption of renewable energy via wind or solar power.
Digital Technology Innovators Join Forces to Launch New Virtual Production Studio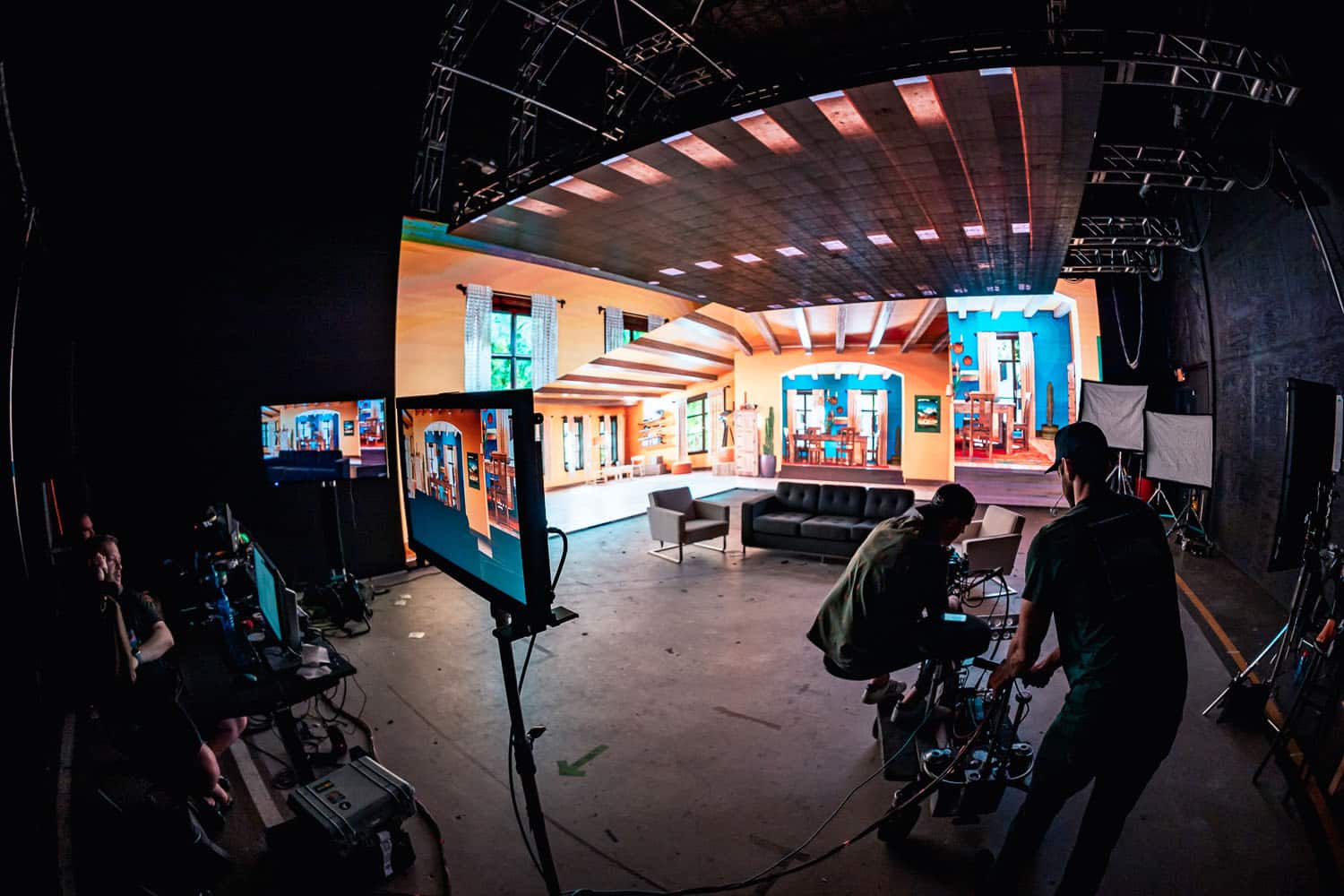 Everyone wants to have a taste of virtual reality. It can take you to far-away realms as you sit comfortably within your own room. Reveal XR, one of America's top virtual industries, provides this technology in its virtual production studios.
The company brought together Atlanta-based Music Matters Production and 3D animation and immersive content studio TRICK 3D to launch the newest Extended Reality (XR) studio in the state, Reveal XR — Atlanta, located at Eagle Rock Studios in Norcross, Ga
There has been a need for Virtual Reality (VR) and Augmented Reality (AR) in the area, so Chad Shockley, Aaron Soriero and Chad Eickhoff joined forces to meet the growing XR production demands.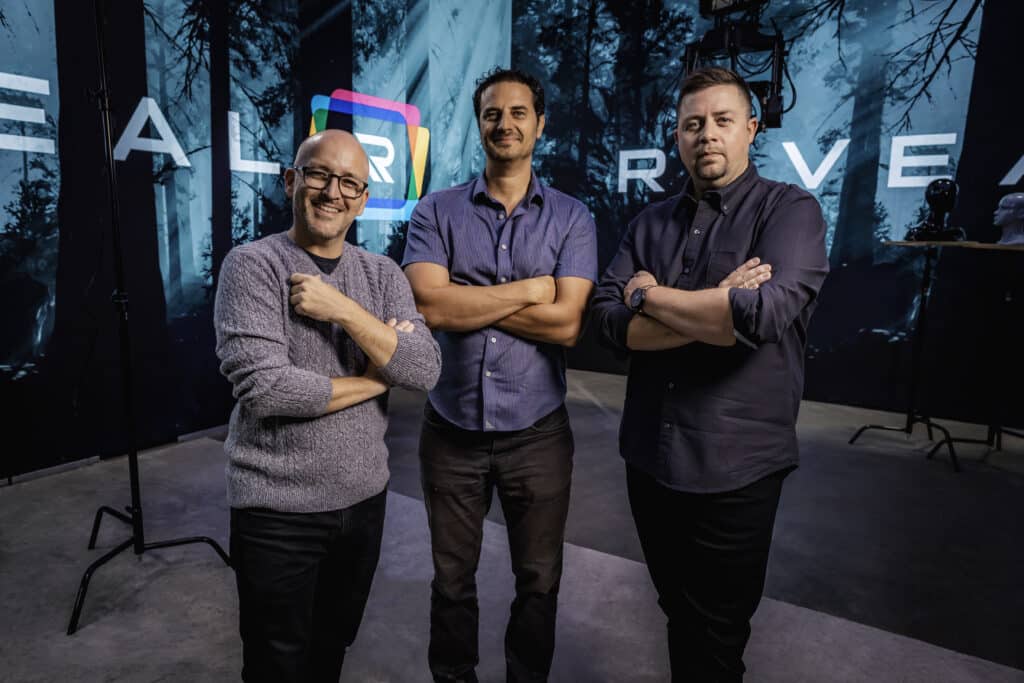 The three tech entrepreneurs opened Reveal XR — Atlanta, a highly accessible and multifaceted virtual production studio in Eagle Rock Studios.
Eickhoff said, "Today's brands need to connect with a digital-first generation of customers and, as such, the demands for creativity in content production is huge."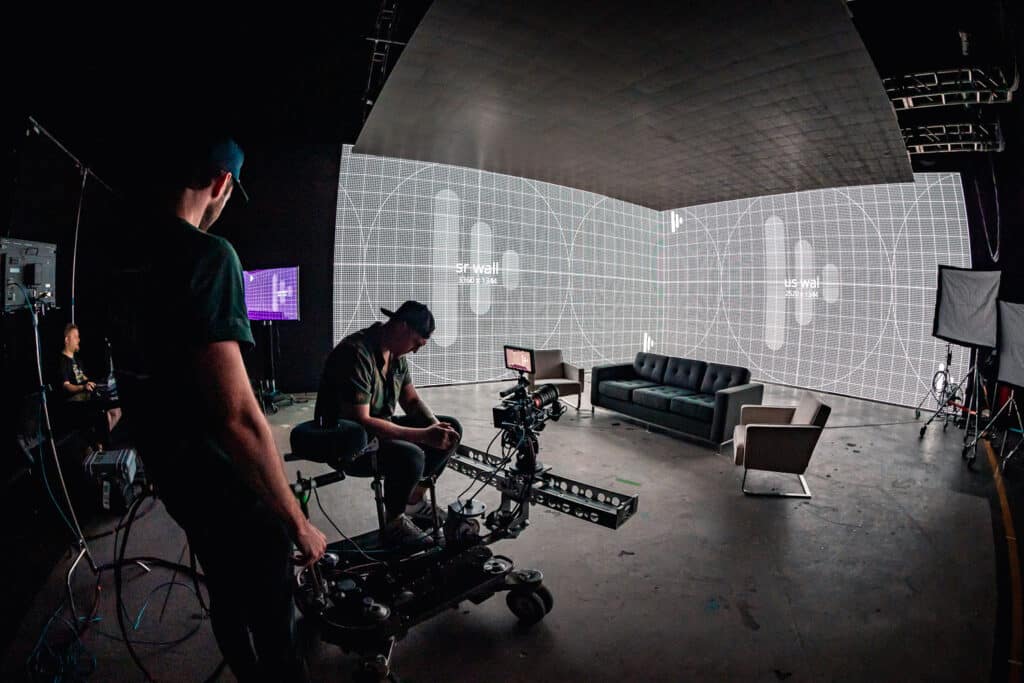 Some additional Facts and Specifications of the Studio:
As of the announcement, Reveal XR Atlanta is available for booking for brand, commercial, TV, film, and music productions.

Technical Specifications
● 35' x 75' sound stage at Eagle Rock Studios – full acoustic treatment and air conditioned
● 33' wide, 13' tall main LED wall, 25' wide, 13' tall wing LED wall, optional 3rd LED
wall up to 13' tall and 18' wide
● Absen PL 2.9mm pitch main walls – 90 degree configuration, next-generation Novastar
MX40 processing
● 18' x 20' LED ceiling, Absen X5 5.2mm pitch – high-bright, height adjustable
● Available ROE BM4 4.4mm Matte LED floor, 18' deep, 24' wide, high weight capacity
● Stype RedSpy Camera tracking system
● Disguise VX4+ for 4k 60fps compositing, RXII render nodes, uncompressed 10 bit video
workflow
● Available RED Komodo and RED Raptor camera packages
● Available Supertechno Technodolly automated telescoping crane
● Flexible staging and lighting options within the studio
● Full height truck docks and plentiful gear handling spaces
● Dedicated green spaces storage areas.

Names and Titles:
▪ Chad Shockley, owner Reveal XR
▪ Aaron Soriero, owner of Music Matters Productions
▪ Chad Eikhoff, owner of TRICK 3D

Location of Reveal XR Atlanta:
▪ At Eagle Rock Studios –
6269 Best Friend Rd, Norcross, GA 30071
Gate 4, E8
Cradlepoint, Bosch and T-Mobile Collaborate to Deliver IoT Solutions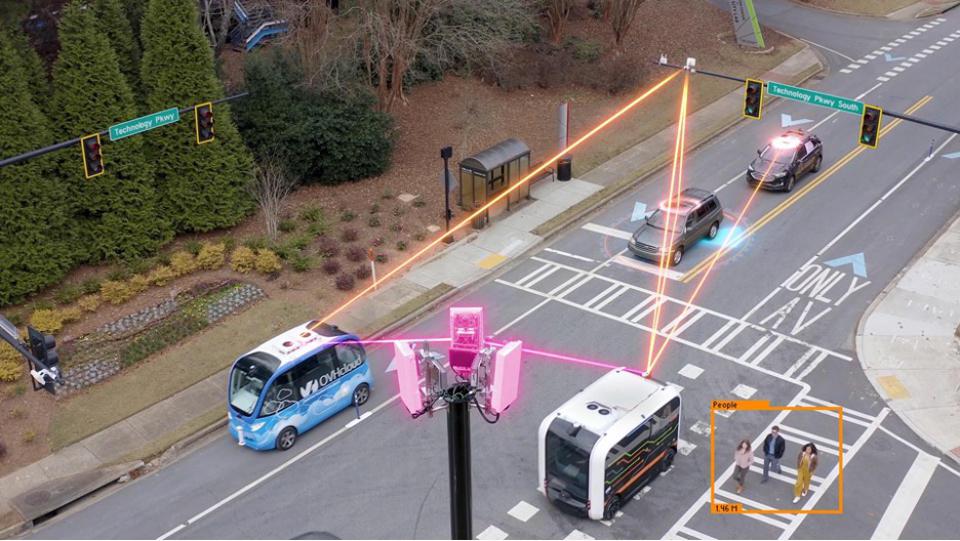 Advanced IoT Connectivity with 5G Wireless WAN Technology
Cradlepoint, the global leader in cloud-delivered LTE and 5G wireless network edge solutions, recently announced a collaboration with T-Mobile and the Curiosity Lab at Peachtree Corners to enable advanced IoT connectivity solutions, such as autonomous vehicles, robotics and AR/VR, using 5G Wireless WAN technology. The solution, developed by Bosch and Cradlepoint, leverages the high performance of T-Mobile's industry leading 5G network — America's largest, fastest and most reliable 5G network — with Cradlepoint's purpose-built wideband adapters and routers to facilitate near real-time parking and safety monitoring at Peachtree Corners, Georgia, one of the nation's first smart cities.
Companies and public sector entities are well positioned on the value of 5G cellular IoT connectivity, particularly when it comes to securing, managing and enhancing smart cities. Unlike traditional fiber connections that take months to deploy, cost thousands of dollars and have long-term commitment contracts, Cradlepoint's 5G Wireless WAN solutions enable an entire ecosystem of IoT partners to immediately deploy solutions with the security and remote management capabilities needed to support IoT deployments at scale.
"Real-world deployments of IoT are challenging the status quo of existing solutions. Couple that with the trend of businesses leveraging 5G technology to transform, and you'll see how this advanced connectivity is remodeling the enterprise," said Todd Krautkremer, Chief Marketing Officer, Cradlepoint. "Cradlepoint, T-Mobile and Bosch are at the forefront of this evolution, furthering IoT and 5G deployments for projects of all sizes."
"Improving safety, efficiencies and anticipating the needs of customers is what best-in-class smart cities can accomplish when powered by 5G and with innovators like Cradlepoint," said Chris Melus, Vice President of Product Management with T-Mobile for Business. "It's rewarding to see concepts from the Curiosity Lab, leveraging our 5G Advanced Network Solutions suite prove true value in the real world."
The solution uses near real-time IoT technology developed by Bosch in conjunction with T-Mobile's Ultra Capacity 5G network and Cradlepoint 5G hardware to assist Peachtree Corners shoppers and visitors in finding open parking as well as available charging stations for electric vehicles.
"In collaboration with T-Mobile and Cradlepoint, and our continued joint effort with the Curiosity Lab in the City of Peachtree Corners, we are demonstrating a scalable, affordable, adroit AIoT solution to serve the community," said Lewis Stallworth, Business Development, Bosch Security Systems, LLC. "The flexibility of this solution was only possible with this technology-forward collaboration and is changing the conversation of what is possible when there is a need for parking management, retail management, community safety and true community operational analytics."
In addition to improving the Peachtree Corners visitor experience, the technology also enables city planners to make real-time informed decisions on parking capacity, infrastructure planning, traffic management and security safeguards based on data around events happening throughout the city.
"Through our work with Cradlepoint, Bosch and T-Mobile, we are now able to better manage our public spaces. Cradlepoint devices having high-speed connectivity through T-Mobile's 5G is key – these devices now allow us to use smart parking applications through the Bosch cameras in our Town Center, while also providing a safety and security layer for our police department." said Brandon Branham, CTO and Asst. City Manager, Peachtree Corners. "The analytics these devices provide help us to better communicate with our residents about parking and safety in our downtown area."
To learn more about Cradlepoint's work with T-Mobile, Bosch and the Curiosity Lab at Peachtree Corners, please visit: https://resources.cradlepoint.com/success-stories/smart-city-uses-5G-for-connected-intersections-and-innovative-parking.